This is a sponsored guest post.

Water is a vital human need for survival. The consumption of water goes beyond drinking and is also used in other uses such as cooking, cleaninglaundary, etc. Over the years, health consciousness has increased to a great deal among the masses regarding the health hazards of tap water that we get as our supply. People do acknowledge that tap water is hazardous for health if used for drinking and now more people are installing drinking water filters in their homes. However, most people to this day restrict their water filter used for drinking purposes only and do not mind using unfiltered water for other uses. Although there are many good whole house water filters available in the market, many people question the need for filtering the water used for laundry or cleaning since they are not in taking that water.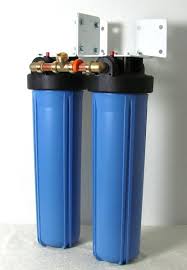 People are not aware of the fact that water impurities can cause non-health damages too and therefore it is important that your entire water supply is filtered and that is something that is only possible if a whole house water filter is installed in your house. Here are a few reasons that will explain the need for filtering the entire water supply.

Healthier Hair and Skin
Have you ever felt that your skin is getting drier, itchier and flakier? Are you feeling that your skin is losing its glow and your hair is losing its shine? Are you struggling with dandruff problems? Even when you are not in taking impure water, especially hard water directly, when contaminated water especially water with excess salt or limescale levels comes in contact with your body, it does affect it since it gets into your body pores. As a result, you face problems such as extremely dry skin and scalp, dandruff, dull and lifeless skin, and hair, etc. If you will try using filtered or softer water for shower, you will feel a clear difference in your skin and hair conditions within a few days.

Damages Appliances
Are you sick of descaling your home appliances such as dishwashers, sterilizers etc? Your appliance consistently gets limescale build up because they come in contact with hard water. Even if you manage to descale your appliances regularly, this consistent contact with hard water does damage your appliance and shortens its life to a great extent. You can increase the lifespan of your appliances by using filtered water and save yourself from the hassle.

Damages Garment
Have you noticed how some of your most gorgeous dresses lose their shine and quality after only a few cycles of laundry? Hard or impure water can also damage your garments incredibly. In some
cases they garment get damaged to the extent that the thread becomes too weak and the garment starts to tear. This can be prevented by using filtered water.

Damages Plumbing
The worst damage that unfiltered water does is to the plumbing of your house. Hard and brackish water damages your pipelines and you struggle with leaking pipes and limescale build ups. You can save your plumbing by using filtered water.