Hailed as the world's first true hybrid console, the Nintendo Switch released in 2017 to glowing reviews and impressive sales. Aimed at all age groups, the Switch is Nintendo's successful attempt at a fully mobile console, affording users the choice of whether to play on their television or on the go. Four years after release, the Switch has expanded its library to include some bestsellers and instant hits.
With their consoles featuring a variety of family-friendly games, Nintendo is well-known for kid-friendly themes and content. To help you choose the best Nintendo Switch game for some competitive fun, here's a list of some of the best-selling multiplayer Switch games that are currently available.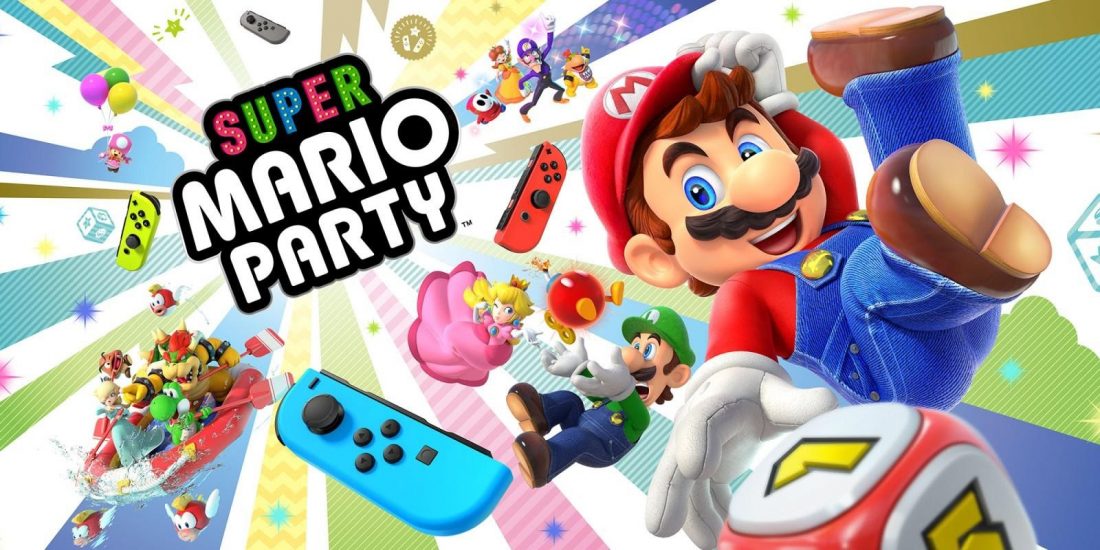 Sourced via: Nintendo
Super Mario Party
Designed primarily with groups in mind, Super Mario Party is an ideal game for the whole family to enjoy. The Mario Party series is well-known for its accessibility and varied mechanics. After a less-than-ideal reception to its predecessor, the latest release of Super Mario Party has widely been regarded as a return to form for Nintendo.
Designed as a virtual board game, Super Mario Party allows up to 4 players to compete for the chance to be crowned champion. Progress on each board is made via dice rolls, minigames and special pickups. Games can be played in 5 main modes; Mario Party, Partner Party, River Survival, Sound Stage, and the online-only Mariothon mode.
In order to win, you and your team must collect stars and gems that are scattered across the board. There's a few different board styles to choose from, and with no less than 80 different mini-games on offer, there's plenty of fun to be had in this party-based bundle-style title.
Sourced via: Nintendo
Overcooked 2
Riding on the success of an original premise, Overcooked 2 is the sequel to a cooking game that can seem deceptively simple at first. Two teams of cooks preparing dishes in the kitchen might not seem that extreme at first, but if dozens of cooking shows have taught us anything, you can easily create a bit of chaos with a little thyme and a healthy dose of pressure.
Featuring a multitude of recipes to choose from, there's a wide range of ingredients that players need to chop, mix, and cook in the correct order. Team coordination is critical as players move around the various top-down level layouts. From wizard school to space stations, family-friendly kitchens in Overcooked 2 foster an addictive game loop that can often lead to all sorts of shenanigans.
Most games in Overcooked 2 include players frantically running around the kitchen, vigorously chopping away or chucking food left and right. The pressure to perfect your food rises as the orders pile up. Easy to learn but hard to master, Overcooked 2 is a great pastime for groups of two to four people.
Sourced via: Nintendo
Super Smash Bros. Ultimate
Supporting up to eight players, Super Smash Bros. Ultimate is a chaotic action brawler featuring an eclectic mix of fighters. With over 80 characters to choose from, players engage in ground and aerial combat in (and around) arenas of varying difficulty.
From Pokemon's Pikachu to Street Fighter's Ryu, Nintendo has put together a star-studded roster for the latest Super Smash Bros. release. Fights take place in over a hundred different arenas, each one multi-levelled and destructible. It's easy to get overwhelmed by the sheer amount of content available, but the upside is that longevity is something you won't have to worry about.
For both serious gamers and casual players alike, fights are explosive affairs and have the potential to become quite competitive. If you're looking for some dynamic action, whether you're a button-mashing maniac or a combo-obsessed number-cruncher, there's a little something for everyone in Super Smash Bros. Ultimate.
Sourced via: Nintendo
Animal Crossing: New Horizons
Following a meteoric rise to worldwide success, Animal Crossing: New Horizons has become one of the highest-selling video games ever made. Void of any monsters or violence, this nonlinear simple life simulator lets you build, farm, and fish to your heart's content. Craft tables and catch insects, or go mining in a cavern you've excavated; the possibilities here are almost as varied as they are in real life.
Customise your character before starting your journey on a deserted island. After being given a tent and a few other essentials, you progress by doing absolutely anything the game has to offer. From this point you're given a blank slate to build your village any way you want. Fancy being a recluse with a sprawling estate? How about being the head honcho of a thriving fishing village? Progressing to later island stages opens up new ways to customise your island getaway, and rewards the player with new items, upgrades, and recipes.
Besides having an island to explore and crops to attend to, players can share their island creations with others or jump into multiplayer with their own character. Hours can easily fly by as escapist immersion sets in. Due to the global pandemic, New Horizons was released at the perfect time for those looking for a little respite from reality. Give your creative side a relaxing outlet with Animal Crossings: New Horizons.
Wrap-up
Home consoles are considered powerful pieces of hardware these days, but mobility is not something they're able to do very well. With an ever-growing library of games on offer, the Switch is steadily becoming the de facto console to get if you're looking for the best console with freedom of movement in mind.
As sales continue to grow, Nintendo has created a bestselling console with a proven track record and a bright future. We hope our list has helped showcase some good examples of the variety of multiplayer games that the Nintendo Switch has to offer.
You might also be interested in: Top 100 Working Roblox Music Codes In 2021 
Author Bio:
Kavita Gill is the founder of CS Jaipur, an sad anime on netflix. She is graduated in Commerce and has 10 years of experience working in various fields including Digital Marketing & Blogging. Blogging helps her to improve her writing skills and share knowledge.