this is a sponsored guest post.

Setting up a trampoline in your garden or backyard is an excellent way for kids to get their dose of fun and exercise. The bouncing mechanism brings about a lot of excitement, while the feeling of being suspended in the air even for a microsecond is extremely exhilarating.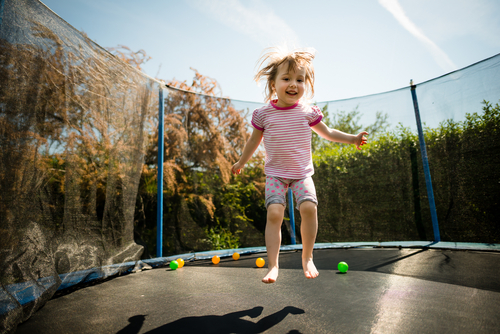 If you're looking to put up a trampoline for your family to use, you'll find that trampolines come in a variety of shapes and sizes. Will the 10ft trampoline be good enough for your jumpers? Or do you need something larger or smaller? The 10ft trampoline is only one of the standard sizes most trampolines come in, but there are several things you need to consider before you make the right decision.

Is the 10ft trampoline right for your needs?

The best trampoline size depends mostly on your personal needs and circumstances. Trampoline sizes can range from 8ft to 15 ft. It's always a better idea to get the best trampoline that's allowable by your space and budget, especially if you believe kids will be using the trampoline throughout their growing years.

Additionally, a 10ft trampoline is ideal for only one jumper at a time. Putting two or more kids jumping together can put them at risk of banging into each other. If you have more than one kid or have playmates coming over to play on the trampoline, then it's safer to go for the larger size.

Picking the right trampoline size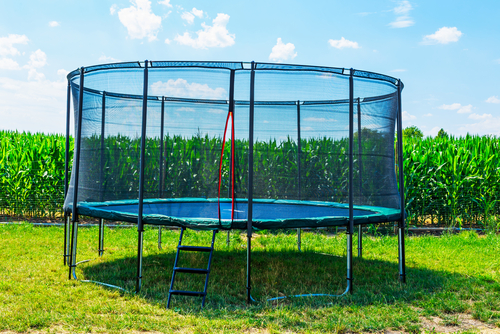 Choosing the right size of the trampoline requires a number of things, such as determining the size of your garden or yard, how many kids will be jumping on it and, of course, your budget.

The average trampoline sizes are between 8ft to 15ft.

8-10ft trampolines: Are great for smaller, compact backyards. These are relatively smaller sizes that can fit in a small garden or backyard. Additionally, these trampoline sizes should only be used by one jumper at a time.

12ft trampolines: Are perfect for homes with more backyard space. It is also suitable for families with small kids and teenagers, and may accommodate around two jumpers at a time.

14ft and larger trampolines: Are good for older kids and teenagers who need more space to perfect their trampolining stunts. This size is good enough to help jumpers practice backflips and somersaults. It is also important to consider that larger trampolines need larger spaces as well, so make sure to measure your backyard first before making a purchase.

Apart from the number of jumpers and yard size, your budget may also play a role in deciding which trampoline is right for you. Smaller trampolines are generally cheaper, typically starting at $200. The larger the trampoline is, the costlier it becomes.

Benefits of playing on a trampoline

Trampolining is one of the best ways to keep kids active through play. Bouncing up and down the trampoline is not only fun, but it also teaches kids a couple of life tricks.

For instance, playing on the trampoline teaches them discipline and persistence. Learning tricks on the trampoline can take some time before kids can master them. Using the trampoline regularly builds up their patience until they can correctly perform the tricks they've been practicing.

On the physical side, trampolining can help improve flexibility and muscle coordination. It's a great way to improve their cardiovascular health because bouncing up and down can enhance the heart rate, giving the heart muscles a good workout.

Although trampolining can offer substantial benefits, it also doesn't come without any risks. Crowding a trampoline with several jumpers can put them at risk of injuries. It is therefore essential to choose the right trampoline size, whether that is 8ft, 10ft or 15ft, and make sure that it's just perfect for your needs. Aside from that, you have to teach kids how to play on the trampoline safely.

Final thoughts

If it's your first time to look for a trampoline for your kids or the entire family, the choices can get overwhelming. But before you scout the market for a potential trampoline to purchase, it is first necessary to determine how much space you have and the number of people using the trampoline.

Also, if you would like to make use of the trampoline for many years to come, it is better to purchase a sizeable trampoline with outstanding quality. That way, you wouldn't have to keep replacing the trampoline with a larger one as the kids grow. You can make it a one-time investment and go for the one that serves your needs today and for several years down the road.