This post is brought to you by datahod. 
Although the name suggests otherwise, slow cooking is a great way to cook for a hungry family or just one person. Slow cooking meals are actually great for not spending too much time on and not making a mess of your kitchen. Put the ingredients into the slow cooker in the morning before you head to work, and presto! You come home to a delicious smelling home, and dinner ready to eat. I have been saved many busy evenings by coming home to my slow-cooked dinner ready, and I can just relax and enjoy. But to execute this perfect plan, you need recipes! I have done some research on apps that can help you enjoy slow cooking and the time it saves, but finding recipes and an app that is perfect for you is in the details. Check out the link to some popular slow cooker apps, but keep reading to put my research to use for you.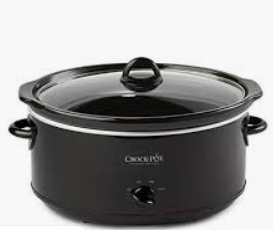 Popular Slow Cooker Recipe Apps

Start simple with easy to make recipes

If you're a first-time slow cooker, I would definitely suggest finding an app that is aimed for beginners. It will start you on some easy slow cooker recipes that are easy to follow and delicious. There are quite a few apps out there under this category so find the one you like the best.

You want to look for recipes that don't have a million ingredients and that takes little time to prepare to start you off. A great feature to a lot of these apps is that you can filter recipes by what kind of meat or veg you want to use, or by what type of cuisine, depending on what you are looking for. These filters save you so much more time than pulling out mom's old recipe books and sorting through to find the right recipe.

If you're a visual learner like myself, look for apps that give you instructions via video and step by step pictures of the recipe being made. One of the best reasons to start learning crock pot recipes is because it allows you to throw everything in, walk away, and let the slow heat work its magic. You don't want to waste that time reading drawn out recipes. Videos can help you clearly follow the instructions with your coffee in the morning and have a hot dinner ready when you get home.

Shop your kitchen for recipes

If your fridge is filled with half bags of spinach, couple peppers, or tomatoes that need to be used before they go bad, use the app to find recipes that include the items you already have so you don't have to make an unnecessary trip to the store. This app feature will help you save money, more time to relax, and help you from wasting food you already have.

You can find chicken crockpot recipes that are delicious like chicken and dumplings, chicken tortilla soup for those cold nights, or even marinated chicken tacos. If you want slow cooker chicken recipes with an Italian flair, try making chicken cacciatore or Tuscan chicken. Of course, there are also loads of recipes you can use for ground beef or pork chops that are in your freezer too. You will be amazed by a little time in your pantry and on your app how many great meals you can make without having to go shopping.

Slow cookers make masterful soups and stews

Slow cookers were made to slowly build flavors over time, which makes them an ideal way to cook stews, soups, and even chili. If you are looking for a warm but healthy crockpot recipe for a cold rainy evening, you just open your app and you'll find easy recipes to make. If you are cooking for yourself or a few friends, the apps can help you figure out how much ingredients you need. The slow cooking recipe apps will even help you get more creative in your dishes than just your normal noodle soup.

Conclusion

Slow cooking can be a great way to enjoy a home-cooked meal, but free up your evening to relax and enjoy family and friends or even just to cuddle up and watch a movie. Keep these tips in mind and happy hunting for the recipe app that inspires you to plug that slow cooker in and get started!