This is a sponsored guest post.
Rosacea is a skin condition that affects your nose, chin, and cheeks. It's characterized by inflammation leading to redness and flushing of your skin.
It's a long-term disease with periodical symptoms. It's common in ladies but severe to men. People with fair skin and those above 30 years are at higher risks of contracting rosacea.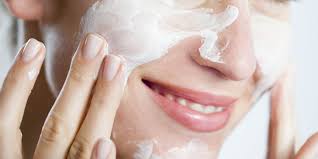 As of now, there's no known cure to the disease. However, there's a lot you can do to manage the symptoms.
The Symptoms of Rosacea Include
Flushing, where your skin reddens due to the widening of blood vessels in your face.
Red bumps that resemble acne but are soft to touch.
Small and visible red blood cells a condition known as telangiectasia
Eye problems that include red and sore eyelids. The eyes might also experience dryness, irritation, and sensitivity to light.
Here are a few tips that you can employ to manage rosacea.
Gently Cleanse Your Skin Twice a Day
You may love and hot showers, but your skin doesn't. Exposing yourself to hot water for long strips your skin of essential oils leading to dryness, and rosacea flare-ups.
But that doesn't mean that you shouldn't wash your skin.
Cleansing your face after waking up and before sleeping, removes dirt and oil, which may irritate your skin. Further, you need to:
Choose a mild Rosacea cleanser (not soap) to wash your face 
Apply the cleaner gently in a circular motion using your fingertips
Rinse your face with lukewarm water to remove the shampoo
Use a clean, cotton towel to pat your face
2. Moisturize Your Skin
Dryness is among the leading symptoms of rosacea. Therefore, it's essential to moisturize your skin. It helps hydrate your skin by trapping water in your face. 
Other than reducing irritation, it makes you feel more comfortable. 
3. Protect Your Skin from the Sun 
Exposing yourself to excess sunlight isn't good for your skin. It's one of the leading causes of the rosacea flare-ups. It doesn't matter whether you have a light or dark skin, you'll have flare-ups after being outdoors in the sun.
But how do you protect yourself from the sun? Apply sunscreen daily before going outdoors. 
4. Buy Rosacea Friendly Skincare Products 
If you have rosacea, several cosmetics and skincare products will irritate your skin. Yes, sun protection, gentle cleansing, and moisturizing will reduce skin sensitivity. However, you'll still need to be cautious with your makeup and skincare products.
Before you buy any product, read the ingredient's list. As such, avoid products that contain;
Alcohol 
Lactic acid 
Fragrance 
Camphor 
Glycolic acid 
Menthol 
Urea 
Sodium laurel sulfate 
5. Be Gentle With Your Skin
Managing rosacea requires you to avoid products that irritate your skin. As such, you need to avoid scrubbing or rubbing your face. Therefore, no facial sponges, exfoliating, or washcloths.
Conclusion
Making these a part of your skincare routine helps your rosacea-prone skin. If you have any challenge getting the right skin care product, consult a dermatologist. They'll examine your skin and recommend the products that you should use.