This is a sponsored guest post.
Your skincare routine is crucial if you want to look fantastic and feel smooth at all times. But keeping your skin healthy and good-looking is not an easy job. Especially if you have a sensitive type, it can be pretty hard to follow the right routine to prevent any kind of damage while keeping it lovely.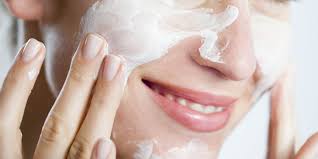 That's why in WomenAngle we want to help you build a more effective skincare routine that works well and is also easy to follow. If you have sensitive skin and you want to keep it as healthy as possible, the upcoming tips will be of great aid. Take a step further and learn!
Wear Sunscreen Before Going Out
Sun exposure is harmful to your skin. All types, from oily to dry or aging skins – all of them are vulnerable to sun rays. However, sensitive skin is the most fragile and easy to get harmed of them all, so it is crucial to take good care of it before getting any type of exposure.
For that, we recommend using a protective layer of sunscreen every day. Before going to work, going training or joggling, and even more critical if you go to the beach or somewhere with lots of sun exposure – applying sunscreen to face, neck, arms, and hands will be vital to keep it healthy.
This way you can prevent common problems such as age spots, wrinkles, drying, and even cancer. Even in the winter, sun rays can be damaging and could cause severe issues with your skin, so don't forget to wear some sunscreen and prevent the annoying & dangerous sunburnt.
Wash, Exfoliate & Moisturize
Cleansing to get rid of filth and makeup, exfoliating to remove dead skin cells and impurities, then moisturizing to hydrate and nurture your skin – these three steps are essential to keeping your skin healthy and beautiful.
It's common to get home from work, and instead of taking a bath you just fall on the couch or bed to have a nap or eat dinner. While this is not wrong, it often replaces the actual routine you should follow, that should be focused on cleaning all your body from makeup, dirt, grease, and overall impurities you get outside.
When you clean your skin, you prevent clogged pores and growth of bacteria, which can be pretty harmful to sensitive skin like yours. Then you can start with the exfoliation.
After cleansing, there's nothing better than exfoliation. You can do this one as soon as you cleanse or a few minutes or hours later. But always remember to do it at least twice a week. You just need to get rid of all the dead skin and the dry parts with the right exfoliation tool.
Focus on areas such as the face, elbows, knees, and nose. Those areas that tend to get the most damage and get dry quick. The following step would be to moisturize.
There's nothing better to keep your sensitive skin hydrated than to take a nice shower, exfoliate, and then use the best moisturizer possible.
A moisturizer will trap all the moisture in your skin to prevent dryness. It also helps to eliminate bacteria and to improve overall looks, smoothness, and freshness of your skin. From creams to ointments, oils, or just whatever that adds a moisturizing effect will be perfect for your sensitive-skin routine.
Moreover, if some have a problem with dark or pigmented skin, do not hesitate to add a skin lightening cream in your routine as well.
Eat Well & Drink Enough Water
If there's something that helps to keep your skin neat, healthy, and always beautiful, it has a great diet. Not only is it essential to keep a sweet semblance, but it is also a key factor to maintain your body filled with vitamins, minerals, and nutrients that prevent damage to your sensitive skin.
From veggies to fruits, nuts, oils, proteins, and much more – taking a balanced and complete diet will be essential as well. Those people who eat right for life eventually look amazing for years. Some people even get to the highest ages looking their best and always thanks to their diets.
But then, some nutrients are more important than others, yet all of them will be. For example, omega-3 fatty acids make your skin more beautiful and healthy. You can find it on nuts and greasy fish like salmon.
Vitamin A in green leafy veggies, salmon, some tropical fruits and dairy products are also critical for preventing aging. This keeps your skin from getting wrinkles and dark spots.
Vitamin B and carbs in change can help with elasticity. This is pretty useful for people who tend to get dermatitis and other similar conditions in their sensitive skin. It also helps to overcome sunburnt more effectively.
There's also vitamin D and E that improve your immune system to fight bacteria growth on your skin. They also help to prevent sun damage and keep skin allergies off. You can find them in all kinds of greens, grains, and fruits.
And of course, vitamin C that's the best against sun damage with the potent antioxidants. It is also critical to avoid damage from smoke, ultraviolet light, and air pollution. You can find it in citric fruits the most.
Let's not forget about the health-improving vitamin K. Specifically found in the greenest and leafiest vegetables like Brussel sprouts and broccoli – it helps to prevent several conditions and strengthen your skin entirely.
Finally, drinking at least 10 glasses of water daily will be ideal for hydration. Sensitive skin tends to get dry pretty quickly, so keeping your body filled with water becomes a critical part of your skin health. Pair it up with a complete diet, and you'll never suffer from a skin problem.
Manage your Stress Levels
Nowadays it's easy to get stressed out. Everyone is connected to social media, works are getting longer and harder, traffic jams are happening more often, and people are getting crazier with time. All this makes it hard not to get stressed. And guess what, stress is one of the first causes of sensitive skin problems.
It doesn't matter if it only physical or emotional stress, your skin will be the first one to feel it. When you are happy and relaxed, your skin looks radiant, smooth and glowing. But when you are emotionally devastated, your skin looks all rough, dry, and irritated.
Many people tend to suffer from severe skin problems when they get too stressed. And for sensitive skin, this is more than typical. So whatever stress you have, whatever troubling you mentally or physically, try to stay away from it as much as possible.
Otherwise, you could just set different activities that may help you release some stress every day. Things such as jogging, lifting weights, taking a walk in the park, talking more with friends and family, reading, meditating, watching movies, or even just sleeping more – all these activities can release some stress.
So don't forget to add them to your life if you think stress can be damaging to your skin. It will thank you later by looking its best. And in the process, you'll also feel a lot better emotionally.
Use Gentle Products
So you're already familiar with the daily routines and other activities that help keeping your skin safe. But we haven't talked about the different products that will also aid you enormously.
It's essential to have the right products if you want to prevent damage to your sensitive skin. The gentler they are, the better it will be. So we want to explain how different products can add to how it looks and feels.
First, let's start with the cleansing lotion or wash. Here you should focus on something free of any fragrance and harmful chemicals. Stick to natural options if possible, something gentle and soft on your skin. If it is sulfate-free, that would be a plus to keep your skin safe.
Then you have the scrub or exfoliation mask. You should focus on products with no alcohol. Things with tea extracts, Bisabolol, and chamomile are ingredients to look for. Also, beta-glucan helps enormously to keep your skin safe by improving your immune system and adding a moisturizing effect.
Then you'll need the proper moisturizer. Most of them are pretty safe, as long as they don't come with artificial fragrances or scents. Anything with synthetic dyes should also stay away from your skin. We recommend oils such as jojoba, coconut, avocado, and olive are all pretty useful and safe. Ointments and creams with natural ingredients can also help a lot.
And finally, for the sun-screen, go for one that's made of titanium dioxide if possible. It tends to be really white, so dark skins may not look well with it. But it's still the best choice as it adds top-notch protection without damaging your skin with harmful chemicals.
Consider all these products, and you'll have it easier when taking care of your skin.
Build Your Routine & Keep your Skin Healthy!
It's not easy to take care of sensitive skin. We all know that. But we need to try still, and that means creating a routine and following it to the letter. With our advice, this will be a piece of cake. So don't hesitate and start building yours now. Your skin will appreciate it!