There's no getting around it. Busy moms have little time for themselves. In fact, surveys show that moms clock an average of 98 hours per week on work-related tasks, including work and family duties. The average mama wakes up around 6:30 a.m. and doesn't stop plugging and chugging until around 8:30 p.m., which means 14-hour days every single day. What does this tell us? That moms have very little time for themselves. But humans need time to rest, unwind, self-reflect, and engage in the activities they love most, which is why it's crucial that moms get some much-needed "me" time at least a couple of times a week.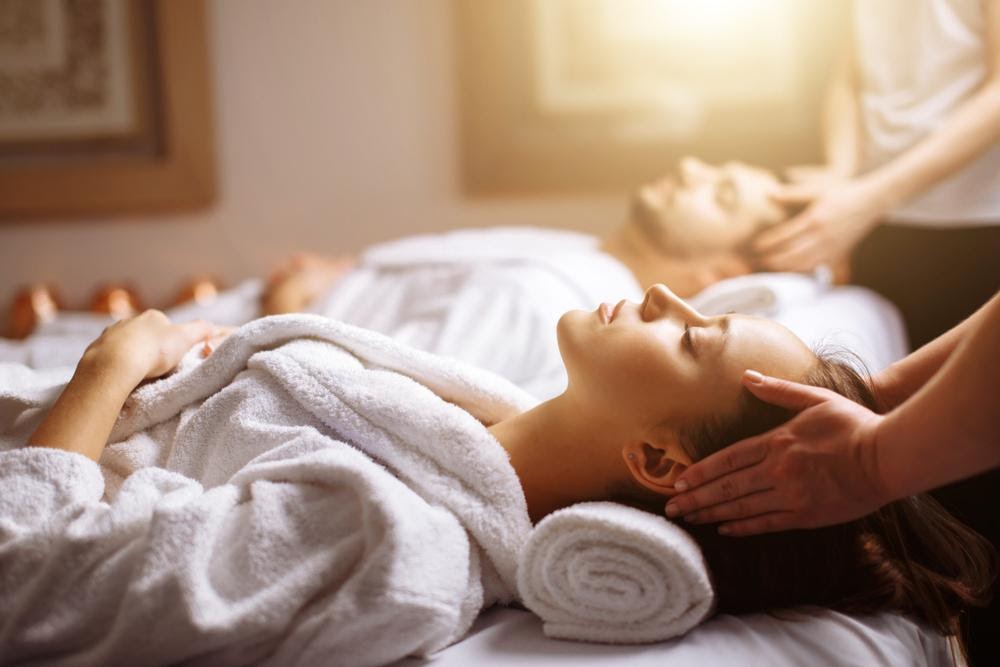 Source: UfaBizPhoto/Shutterstock.com
Me Time Matters
If you're struggling to find justification for taking time away from your kids and family, remember that a lack of alone time can take a serious toll on your mental health. In fact, studies show that not having enough of it can lead to perinatal mood and anxiety disorders (PMADs), like anxiety and depression. These feelings can linger long after childbirth and can manifest into lifelong mood disorders. Try to think of your own self-care as a top-of-list priority because it helps you be a better, happier person, which in turn helps you be a better, happier mother.
From Kegel ball exercises to setting boundaries, Here are some ways to carve out more time for yourself to support stronger physical health, mental health, and overall wellness.
Ask Others for Help — One of the most detrimental mistakes moms can make is not asking for help from others. The fact is that, for millennia, parents relied a whole lot on their communities to help raise their kids. It takes a village and all. But these days, our communities often don't extend far beyond our households, which means the whole burden falls on parents alone. Asking for help from grandparents, friends, babysitters, and fellow moms will help you soak up some much-needed me time. If you're co-parenting, swap "me" time with your partner at least once a week so you both get time to yourself.
Set Boundaries and Protect Your Free Time — Whether you're a parent or not, learning how to set boundaries and protect your own free time is a fundamental part of forging a happy life in adulthood. Putting limitations on who can demand what from you and when — whether it be a demanding co-worker, a needy friend who considers you her personal therapist, or your high-energy child after a long day — can help ensure that you don't give every single second of your free time to others. Here are some ways to do that when you need time to yourself:

Take full advantage of your phone's "do not disturb" feature (easily accessible on iPhone and Android) and don't feel guilty about it, ever.
Leave your read receipts off. This way, you won't feel pressure to get back to someone right away because they won't be able to tell if you read their message.
Use Google Calendar's "working hours" feature. This lets you set specific working hours and will automatically decline invitations set outside of them.
Put it in your calendar. Block off time in your cal in big, bold letters that read "ME TIME." This will let your partner and others know that this time is not to be considered optional, but obligatory.
Source: Africa Studio/Shutterstock.com
Stop Feeling Guilty — This is a tough one for modern moms, and it's totally understandable. Today's parents feel guiltier than ever because the pressures are so high – not only to be an amazing mom, but also to be successful, beautiful, and healthy, all while feeding the kids a healthy diet, making sure they're mentally stimulated and not overdoing it on the screen time. Oh yeah, and not that we needed a study to prove it, but research shows that moms feel guiltier than dads when they spend too much time working. The guilt runs especially high when we take time for ourselves, but going easy on yourself is key to your happiness. If you believe that guilt is holding you back from a happy, healthy life, work on finding ways to reduce your feelings of guilt.
Don't Neglect Your Health — Realize that your physical well-being is non-negotiable, just like your family's. Childbirth can put your body through the wringer, so if you're a new mom, prioritize getting yourself to a place where you feel good about it. Consider integrating routine pelvic floor exercises (with or without Kegel balls) into your routine to help you feel more confident and like your old self again. Kegels are one of those amazing exercises you can do anytime and anywhere, so they shouldn't take too much time out of your day. No matter if you've got a newborn or grown kids, don't be ashamed to rely on bladder leakage pads as you figure things out.
Go to the Gym — Going to the gym is one of those rare self-care activities that helps you reap the benefits of alone time without the feelings of guilt. In fact, most moms find that time exercising actually leads to feelings of happiness and self-confidence, which can do wonders in helping you lead an all-around healthier lifestyle. The great thing is that many local gyms and fitness studios consider the fact that many of their members are moms, which means many have childcare options and kids' fitness programs so you can get your sweat on without having to hire a babysitter.
Source: Nomad_Soul/Shutterstock.com
Most Importantly: Make It a Priority
We know it sounds impossible, but making time for yourself should be a priority right up there with feeding your kids and getting them to dance practice on time. The most important thing you can do to achieve your goal of more me time is to change your perspective. If you're aware that spending time on yourself is valuable, you'll be much more likely to do it each and every day.