This is a sponsored guest post.
The real celebration at weddings starts at the reception. The delicacies, drinks, and busting moves make it serious fun. For the newlyweds, the reception is where they relax after finalizing their union, and can pull some dance moves too. There are hundreds of ideas for reception decoration, but many of them are expensive. If you want to make your wedding reception memorable but on a tight budget, here are some ideas you can apply.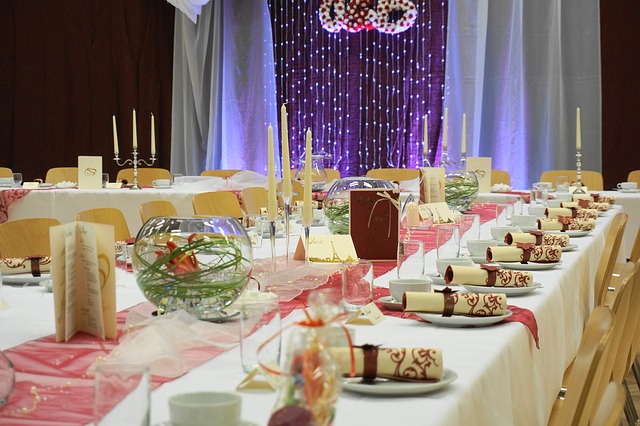 1.Find a Stunning Location
The first thing you should do is to find a fabulous location that won't empty your pockets. Most affordable spots are good, but you have to do more to enhance the space. You also need to consider your interests while choosing a location.

If you are a wine lover, you can rent a vineyard in Napa.
If you are an artistic person, you can pick an art gallery as your reception.
If you are a nature lover, you can also set your reception in a ranch.
2. Use Some Décor from Your Relatives
Relatives are willing to help you on your big day to cut the wedding costs. That is why it would be a good idea to find a wedding registry builder to help you create one and let your guests know the gifts you wish to receive at your reception.
From silverware to vases, chairs, bowls, tables, the music system, you can have it all as long as you ask for it. These items can add a charming effect on your celebrations.

3. Use White Christmas Lights
Almost every home has those white Christmas lights that are bought on last two weeks of the year and hanged on the Christmas tree. Did you know that you can also use those lights in your reception and save big?
Now you do! What's the use of hiring lighting services when you have them at home? You can put them around tables, the cake, and around other decorations. Alternatively, you can use lanterns.

4. Bring Nature Inside
You don't have to spend anything when nature has you covered, or maybe you will spend less. Nature's beauty is irresistible. Pastel spring flowers or fall foliage can serve as backgrounds.

You can also use birch and evergreen green branches to decorate the doorways and place wildflowers in jars. Your guests won't be bothered by the sweet natural smell of their surroundings.

5. Fake Your Flowers
Real flowers cost a fortune, but you can still use fake flowers and save some bucks as you show your creativity. There are many tutorials on the internet to help you design some flowers.

You can use papers or coffee filters but should make them days before the reception, to save you the last-minute stress. The benefits of paper flowers are that they are cheap, easy to find, and they won't cause any stains.

6. Decorate With Food
The wedding food and drinks that you asked for the reception will add elegance to the celebration. The wine and champagne bottles can look attractive. So are the strawberries and grapes too.

The huge and assorted jars of candy, pastry, and juicy fruits creates a festival mood while the trays and farm fresh veggies and cheeses make the party more alive.

7. Don't Put Many Ideas on the Table
The larger the table, the more stress there will be if you want to decorate everything. Also, following a décor theme according to your organizer and renting some of those décor ideas can be expensive.

Many couples looking to save some money opt for traditional seating instead of several food tables scattered around with seats. You can dress a few buffet tables and have your guests sit around them.

Conclusion
There are many wedding decoration ideas for receptions that couples can take advantage of. It all depends on their budget. But a couple that wants to save big can use natural resources, recyclable stuff and reach out to their family members for the dishes.