This is a sponsored guest post.
Do you want a cleaner, more organized laundry room? Check out these storage tips! These solutions will make organizing your laundry room a simple task.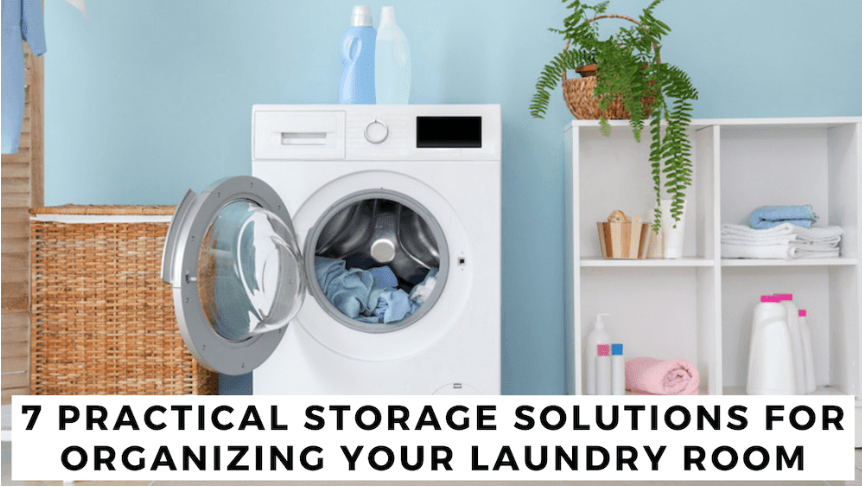 When space is at a minimum, every inch counts.

And "every inch" includes the most frequently overlooked room — the laundry room!

This room usually contains your washer and dryer, along with some detergents and cleaning supplies. Unfortunately, it often contains a large amount of dust, lint, and clutter, too.

But this room doesn't have to be dirty, dingy, or in disarray. It can be cute and cohesively organized. It can also be a storage room for all of the things you use to clean your house or apartment.

With a bit of planning and some DIY know-how, you can use these seven practical storage solutions to organize your laundry room.

1. Use Wall Storage
Whether you have a big room or a tiny closet, wall storage can be your favorite organizational tactic.

Using your laundry room's wall space to store your stuff will significantly reduce clutter. From floor to ceiling, every inch is fair game, as long as you have the right storage organizers.

Check out these potential solutions:

Pegboard Walls
Pegboard is a great material for hanging cleaning tools like mops and brooms. Standalone pegboard racks are also available if you can't hang heavy objects on your wall.

Storage Baskets
Storage baskets are the perfect solution for storing cleaning agents. All of your detergent powders, scrub brushes, and dryer sheets can go in these.

Wire Shelving
Wire shelves, like the kind you might find in a kitchen pantry, can help you control miscellaneous items. They're perfect for storing your baskets, as well as plastic detergent bottles.
Peg Rails
Peg rails are a chic and decorative way to hang drying clothes. They also work well for excess coats that you don't want to store in your closet.

2. Have a Home for Everything

Expert organizers stick to the old adage, "A place for everything and everything in its place." It's the cornerstone of an efficient organizational strategy.

This means that you should store your items based on their category.

Cleaning supplies and detergents should go near each other. Towels should hang side by side. And if your laundry room is big enough for you to store your vacuum cleaner or mopping supplies in there, keep them in the same corner.

In other words, don't just toss things wherever they fit. Keep similar items together.

And here's another tip:

If you put anything in lidded storage totes, label each tote. That way, you'll always know what's inside. You won't have to dig through to figure it out.

Many people, for example, store holiday decor in their laundry room. By slapping a label on the side of your decor box, you'll know exactly where to find them when the holidays come around.

3. Get Creative with Storage by Using Vertical Space

Using your wall space is one way to make extra room for organizing, but what about the extra vertical space in the middle of the room?

I mean, there's a lot of space between the top of your head and the ceiling, right? Why not take advantage of it?

You can do so by hanging a shower rod from wall to wall. This makes a DIY drying rack! You can also hang a curtain on the rack to wall off cluttered areas you haven't cleaned yet.

If your curtain rod is strong enough, you can even hang a closet organizer from it. This trick gives you a place to put clothes as you fold them. When you're done folding, you can just take the hanger down and carry it from room to room as you put things away!

4. Add Makeshift Storage Furnishings

Hanging shelves aren't the only makeshift storage you can implement in your laundry room. By repurposing some of the furniture you already have, you can make new space wherever you need it!

Bookshelves or freestanding shelves make great storage for totes and extra supplies. Over-the-door organizers are handy for keeping paper towels and other essentials in order.

Drawer units are also helpful as they combine the space of a bookshelf with the clean, closed look of a cupboard.

5. Increase Your Cabinet Space

Speaking of cupboards, have you made the most of your cabinet space yet?

You don't have to settle for the ones that you currently have. With the help of a few tools, you can supplement — and even extend — your current cabinets.

Baskets and bins are always nice inside a cabinet. They allow you to use the entire volume inside rather than just the flat surface.

Cabinet drawers are made to fit under sinks or in cupboards to give you more storage space. By mounting one to the walls of your cabinet, you can take advantage of all the space in your cupboard.

Expandable organizers also open up storage space by adding levels to the interior.

6. Your Laundry Room Can be a Mini-Garage

Okay, so you probably can't store a car, or even a lawnmower, in your laundry room. But you may be able to store some things in there that would otherwise go in the garage.

If you don't have a garage or yours is already full, put a tool chest in your laundry room. There, you can store tools, cables, batteries, and other hardware.

There's a catch, though:

You must keep the drawers organized and labeled.

Tool chests can easily fall victim to the "junk drawer" trap. Avoid this temptation by labeling each drawer with what it contains and only storing those items inside.

7. Clean Your Laundry Room Regularly

After you implement the tips above, your laundry room will look clean and organized. Now, it's your job to keep it this way.

After all, what's the point of decluttering any room if it's only going to get messy again in a month?

So, make sure to add cleaning the laundry room to your weekly to-do list. All you have to do is sweep up, vacuum, and put things back where they belong. It'll take no more than an hour!

---
Conclusion
These practical storage solutions can make your life a lot easier. Doing laundry becomes less of a chore when your supplies are easy to access.

Plus, you'll no longer have to keep the laundry room door closed when guests come over. By cleaning and organizing it, you'll turn this room into a space that you're proud of.

There's no need to hide your laundry room away from the rest of your home any longer!

Author Bio:

Ryan Sundling is a Group Marketing Manager at Cardinal Group Management. With over ten years of experience in the conventional housing industry, he works with The Ruckus to help them with their marketing efforts.