AVAILABLE ON DVD TODAY!
"Meet Ickis, Oblina and Krumm, three young monsters at the "scariest" school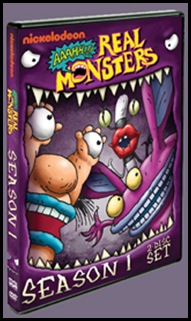 you've ever seen! But when they're not learning the best methods of frightening humans from their headmaster, The Gromble, the trio is facing off against a determined monster-hunter named Simon. Can they keep the secrets of the monsters safe while on their crazy adventures?
Starring the incredible voice talents of Charlie Adler (The Super Hero Squad Show), Christine Cavanaugh (The Rugrats), Gregg Berger (The Transformers), Tim Curry (Clue) and James Belushi (Hoodwinked!) as Simon the Monster Hunter, Aaahh!!! Real Monsters promises to have you howling with fun!"
I remember watching Aaahh!!! Real Monsters when I was a kid.  We got the Aahh!!! Real Monsters Season One on DVD.  Watching it again with Bug really brought back memories for me.  Bug loves the show.  It is a perfect gift for your kids for Halloween!
AVAILABLE ON DVD ONLINE TODAY!