This is a sponsored guest post.
What is a Mini Sewing Machine?
A mini sewing machine is a miniature version of a regular sewing machine. While the traditional sewing machine are quite large and heavy, mini sewing machines on the other hand are very lightweight. A mini sewing machine is easily portable and can also be used for travelling purposes. With every gadget getting smaller and portable, why would sewing machines lag? This is why today we have some amazing lightweight mini sewing machines that are a great investment for both beginners as well as the elderly.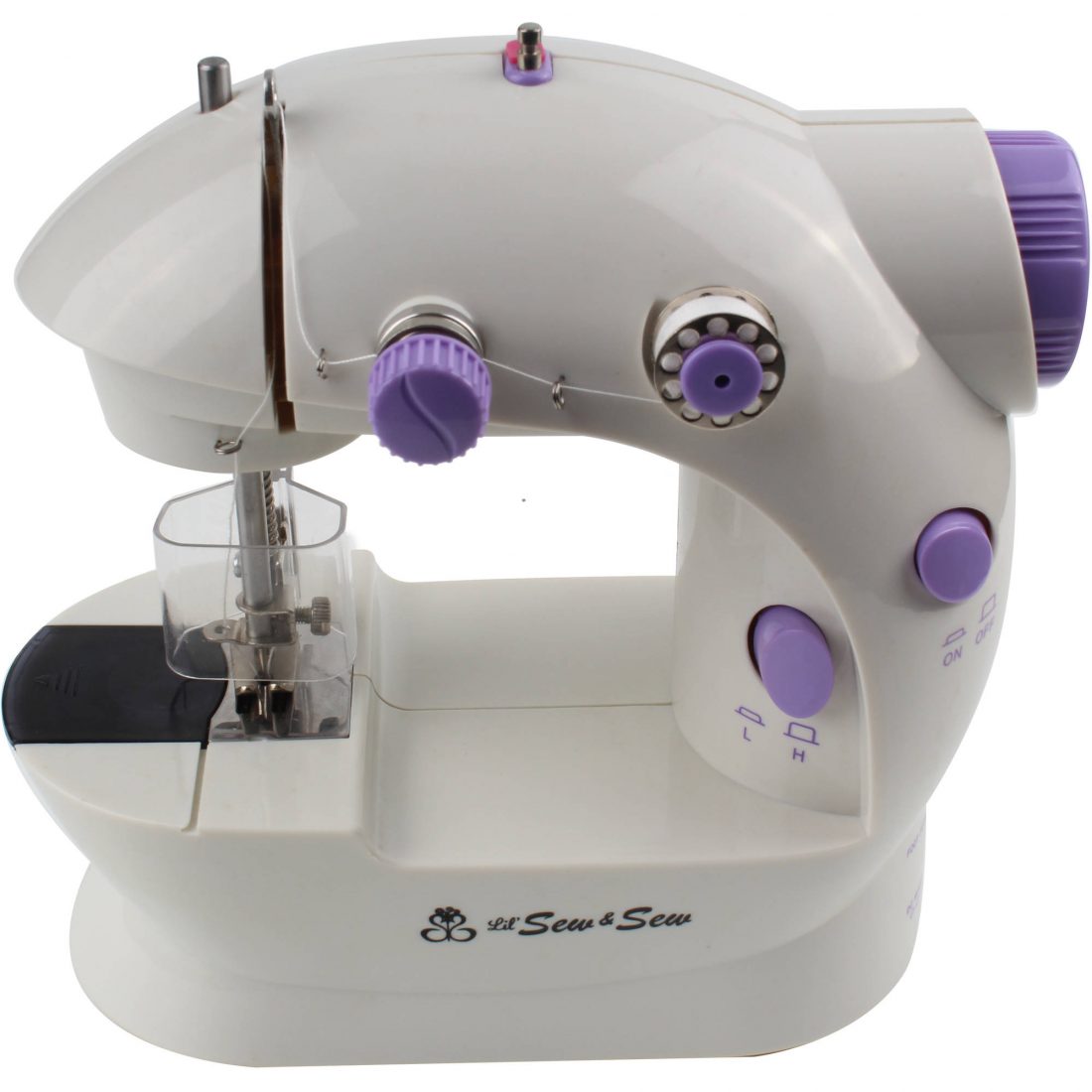 It is a good choice of machine that beginners can get accustomed to before trying actual industrial machines. Though these machines may be smaller in size, but they are versatile enough to handle a variety of projects with ease. The best part about owning a mini sewing machine is that they are pretty affordable. At the same time, they work as efficiently as any regular sewing machine. If you have been planning to get one of these stunning machines for yourself, then now is the time to take action. Read ahead to know more about mini sewing machines.
Beginner Guide: How To Get The Best Mini Sewing Machine
Do you want to get yourself a powerful mini sewing machine but do not know what to look for in one? Here we have listed some of the best features or factors that will help you narrow down your choices and choose the best one for your home.
• Built-in Stitches: Before you go ahead to purchase any mini sewing machine, make sure that you inspect the number of built-in stitches that the machine offers. As a matter of fact, mini sewing machines usually do not have a ton of stitch options. However, they do comprise of the basic stitches that are useful for stitching projects.
• Presser Foot: Having presser foot options gives you to make your stitching work simpler than ever. At the same time, your time taken to complete a project is reduced. This feature is an essential one that will be very helpful for your stitching work. Get a machine that has a good number of presser feet options.
• Build Quality: Since mini sewing machines are very lightweight, they can be made of lighter materials which can compromise on the quality. This is why you need to look at the build and material of which the mini sewing machine is made of. This will give you a clear perspective of what to expect from the machine. If you need to work on a variety of projects, then you will need a machine that is durable and sturdy.
• Noise: Alot of sewing machines produce a lot of noise while in operation. This can be very irritable and also distracting at the same time. Hence, look for mini sewing machines that have less noise so that you work on them for a longer period of time.
Sewing Machine Hacks: Special Edition
1. Use Sharp Scissors
Keep a dedicated scissors for your stitching work. Only use this pair is scissors for cutting fabric. Do not use this for cutting other things like paper or other hard materials as that can reduce the sharpness of the scissors. Having a good quality and sharp scissors will help you create that perfect cut you need for your fabrics.
2. Use Freezer Papers
You can use freezer papers to your material. It easily sticks on to the fabric and this way you will be able to cut through the design. This method makes it error free and simpler than ever. You won't ever go wrong with this technique as you get the perfect tracer. At the same time, it does not leave any residue as well.
3. Get Painters Tape
This simple equipment is a handy tool that will help you with your stitching projects. You can make use of painters tape to hold ruffles or pleats together without any extra help from anyone. What's more? The best part of using painters tape is that it does not leave any residue on the fabric or does not damage it as well thus making it a useful tool.
4. Pile On Dental Floss
You might have always noticed that button easily pop out all the time and you always need to stitch them back in place. This can be a huge repeater job that will take your time all along. The best method or trick to sew buttons is to use dental floss as the thread. The floss threader are more sturdier than the usual thread which makes them more durable. This way your buttons won't be popping all the time.
5. Wool Stuffing For Sharper Pins
The next time you need a pincushion, make sure to use steel wool as the stuffing. This will ensure that your needles are sharpened every time you poke them into the pincushion. At the same time, you can also use a little bit of rice stuffing that will absorb any little moisture in them.
6. Sew Elastics
Do you need a quick elastic stitch tip? Or do you wish to attach the elastic to something, but do not want to waste time gathering it through the mini sewing machine? What you need to do is to stretch the elastic on the area that you wish to cover. Then you got to sew it in place. Stretch the elastic over the garment. Though the garment will pucker while you sew, but the elastic will stay in place as long as you hold it well.
7. Keep Needles In Order
Take a bowl and add a magnet into it. This will allow you to keep all of the needles and pins in place. Else, the struggle can be real to separate every needle and pins from the thread. Though this is a small tip, yet it can go a long way in helping you to keep your needles and pins intact.
8. Prewash Clothes
A majority of clothes tend to shrink after you wash them. Hence, it is best to work on fabrics and materials after you are done washing them. Also, make a note of the different fabrics and how they need to be treated in the first wash. For instance, while knits and flannel need hot water, silks need hand wash simply in the basin. Treat every fabric with care so that you do not happen to damage the material.
Conclusion:
In this article, we have seen an in-depth review about the various sewing machine tips and hacks that will change your life. Though you might feel that they are pretty simple, yet it is those small things that make the biggest difference. Hence, if you have been looking out to purchase a mini sewing machine, then these amazing tips will help you get through the initial stages. Do let us know which one is your favourite hack. Also, do try them out and let us know your feedback and suggestions on the same. There are some stunning deals online wherein you can get these machines at a super discount rate. So what are you waiting for? Grab your deal now and create wonderful stitching art with these mini sewing machines.