We spend our lives committing our talent and energy to projects, everyday grinds, and life's unexpected challenges. As time goes by, we devote our efforts towards reaching a time and a place where our dedication finally comes to fruition. Some may call it early retirement, others a milestone ahead of the golden years. But one thing is certain: the goal is to let happiness (in all its simplicity) fill our minds and bodies.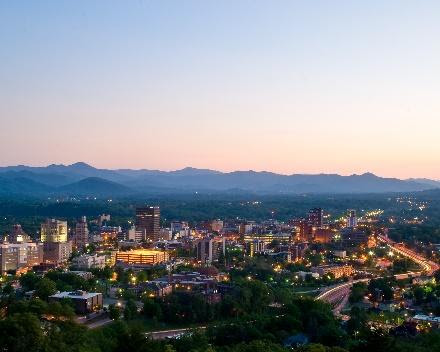 There's a beautiful place in North Carolina where your well-being and personal replenishment go hand in hand with having fun: Asheville. This small southern city is the closest thing to a mountain oasis you can find. Located between the French Broad and Swannanoa rivers, this magical location is the perfect place to reconnect with ourselves and marvel at the beauty that Earth has to offer.
Ashville hosts a fantastic culinary and arts scene in its romantically traditional atmosphere. While the city buzzes with flourishing local businesses and numerous free outdoor activities, its people share a deeper bond: a commitment to well-being and kindness.
Couples and families from all over the states have visited this gem on the Blue Ridge Mountains valley, and are welcomed with open arms and that lovely southern hospitality that we all know and love.
It also comes with no surprise that Asheville is home to some of the best integrative doctors. The local culture is also reflected in an integral approach to medicine where accomplished, compassionate and non-judgmental physicians practice Western evidence-based practices. This holistic treatment approach focuses on the patients and their goals, discarding many limiting constraints produced by a strict (and often cold) doctor-patient relationship.
What's more, if you visit during summer, you'll escape from the south's sultry summer heat as the city's higher elevation protects you with a pleasant valley-breeze and its noticeably cooler temperatures.
If you head downtown, you'll notice the quirky and well-organized small businesses and their local wares. The cafes and restaurants blend into that carefree Asheville atmosphere and offer a delightful range of delicious local cuisine and hearty craft beer.
Whether you're visiting or looking for a more permanent arrangement, Asheville is guaranteed to offer cultural and romantic enlightenment with a dash of adventure and excitement. One of the most iconic places that best capture Asheville city life is the "Before I Die" chalkboard on Biltmore Street: a wall with a black outdoor coating, full of spaces to write in chalk your life goals and aspirations.
There's also an exciting musical tradition that takes place between 6:30 pm and 10:00 pm, filling the downtown streets with energy and joy as people dance to the local tunes under the starry sky.
If you love outdoor experiences, get ready to enjoy the beautiful natural setting the Pisgah National Forest has to offer. The French Broad River flows across Asheville, making traditionally fun and challenging activities such as kayaking, tubing, and standup paddleboarding perfectly possible.
Anyone who loves calmer ways to enjoy nature is sure to enjoy the spiritual and physical renewal that comes from Asheville's waterslides and natural baths. These therapeutic escapes are part of the city's long-standing health and wellness traditions, connecting their visitors with beautiful surroundings as they reach a perfect balance between body and mind.
Hikers will also be happy to hear that trekking and camping in the Asheville Forest is nothing short of a deep, life-changing experience that connects you to Earth and its wonders. Sightseeing, trekking, and excursions are just some of the many ways in which you can clear your mind and work a sweat as you enjoy the fresh mountain air.
There's also an eye-opening, local foraging adventure offered by a family-owned business in which you get to experience the Blue Ridge mountains like never before. No Taste Like Home takes you on a foraging tour where you learn about and look for edible plants, leatherback mushrooms, berries, and flowers.
Once you've collected these edibles, you can take them back to some of the Best Restaurants in the city, and they'll cook fantastic local meals for you. Talk about connecting with nature and enjoying the old ways!
As the sun goes down, you can top the day off with a soothing and romantic stargazing experience. Surrounded by the tallest mountains on their side of the Mississippi River, Asheville is perfect for pondering the night sky with your significant other and some friends.
As a smaller city, Asheville produces minimal light pollution, making it perfect for witnessing the brilliance of distant planets and the surprisingly golden glow of the moon. If you visit in August, you'd be lucky to catch the free public stargazing events hosted by the city's Astronomy Club.
Without the need to bring your telescope, UNCA (University of North Carolina Asheville) faculty and astronomy club members help you use their telescopes to locate your favorite constellation or planet in the sky. Furthermore, if you're a UFO enthusiast, get ready to search the skies for unidentified aircraft, satellites, and unexpected shooting stars by using the Alpha Generation 3 Military-Issue Night Vision Equipment in one of Star Watch Night Vision Tours expeditions.
Thankfully, Asheville offers many other activities besides the ones we've mentioned so far. This beautiful southern city is full of surprises, and its bohemian spirit makes it the perfect active and healthy getaway in an increasingly tech-centered world.
Its beautiful scenery and the connection people have with their surroundings undoubtedly make the city one of those places capable of recharging our vital energy and bringing some fresh new perspective into your life.