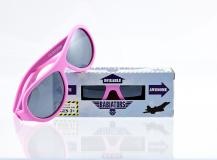 My son loves playing with my sunglasses, but I don't love letting him. He is too rough with them and they break pretty easily. I was excited to receive a pair of Babiators baby sunglasses for him because I knew they would be durable, & tough enough for everything a toddler could dish up.
"Babiators protect your child's eyes at a critical time – Babiators' lenses offer 100% protection from UVA and UVB rays – but why should we be concerned about protecting our children's eyes from UV exposure?"
"Given that children's eyes do not have as many natural protections from UV, children spend more time in the sun than adults, and time in the sun can lead to permanent eye damage, we feel it just makes sense for kids to wear sunglasses!"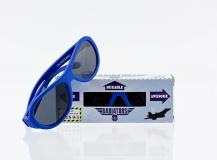 I wish I could say that my son actually WEARS his Babiators, but that would be a lie. He loves to put them on, & take them off, & put them on again—and it goes on & on. The good thing is that these baby & kids sunglasses are totally flexible so he can play with them like that, and they aren't going to break easily. I am trying to train him so he will keep the Babiators on while we are outside, but it might be a while before he decides to do that. I definitely think they would be beneficial in keeping his eyes protected from the harsh sun because Babiators offer 100 percent protection from UVA and UVB rays. In the meantime, we like to indulge him & tell him how cool he looks with his aviator-style rubber sunglasses on
. And it's true…he is one stylin' DUDE!!
Children's sensitive skin needs sunscreen to limit dangerous UV exposure and their eyes need protection too. Here are the facts:
When compared to adult's eyes, children's eyes have fewer natural protections against UV exposure, making them more likely to be damaged.

According to Dr. J. Keller Wortham, a physician with Optimum Wellness Family Medical Group in Los Angeles, excessive exposure to the sun during daily activities can contribute to cataract formation, macular degeneration, pinguecula and pterygium (growth on the eye's surface), photokeratitis (snow blindness), and skin cancer on the eyelids. Those are a lot of big words, but the bottom line is this: protecting your children's eyes is critical.

The EPA recommends you wear sunglasses even on days with a low UV index! 
Things that are BRAG WORTHY:
BPA free!
Protects your child's eyes
Rubber frames so they are durable
Provides 100% UV protection
If they break with normal use, within a year, you get a replacement!!
Super cute
Babiators get BRAGGING RIGHTS!!!
Babiators is generously giving away one pair of sunglasses to one lucky reader!!
How to enter: Leave comments below with your qualifying entries. Leave a Separate comment for each entry telling us which you qualify for.
MANDATORY 1st entry– Visit Babiators and tell us what color of Babiator Sunglasses you would like to have for your child.
1st Mandatory Entry must be completed before you can qualify for additional entries. All extra entries who don't do the mandatory entry will be deleted
2 entries-

Follow the Babiators

Blog

.

2 entries– Grab The Bragging Mommy button and put it on your blog. Leave a link.

10 entries– Blog about this giveaway linking to this post. Leave a link.

1 entry per day– Tweet this giveaway including a link to this post, & @braggingmommy and @babiators in your tweet.
GIVEAWAY IS NOW CLOSED
You can enter this giveaway until August 4th @10:00 am MST. The winner will then be chosen at random, verified and contacted via email. The winner will have 48 hours to email us back and claim the prize, if prize is not claimed within 48 hours a new winner will be chosen. By entering this giveaway you agree to The Bragging Mommy Full Disclosure. You must be over the age of 18 and live in the Contiguous US to enter.
*I received a pair of Babiator Sunglasses for the purpose of this review