Most of us want to achieve a bright, youthful-looking skin even in the middle of a busy schedule. But with so much to keep track of, we sometimes find it hard to stay organized and create a proper skincare routine. 
That everyday hustlin and taking care of errands can actually contribute to skin aging. Of course, there are medical treatments such as laser procedures, which can bring instant results by stimulating collagen production. Here's a good read about a non-invasive treatment that counteracts the effects of skin aging.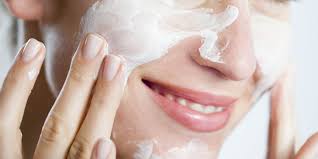 But what if you don't have the time yet for these procedures? The best way to maintain your skin's beautiful appearance is through proper skin care. 
Here's a step by step guide on how to properly do skincare for maximum results.
Step #1: Cleanse Your Face
As we get older, our skin loses moisture and natural oils which leads to drier skin. The first thing you should do before proceeding with your day and night skincare routine is cleansing your face.
The skin sheds off dead skin cells throughout the day, especially overnight, which can potentially build up and lead to the growth of pimples and acne. Bacteria and other small particles can also build up in your skin, especially in the face area if you spend most of your day staying outside. By cleansing your face, you will be able to wash off any excess oil and dirt that can clog up your pores. 
Dermatologists recommend going for organic facial cleansers as they are guaranteed safe for any skin types. Natural cleansers don't contain chemical substances that can irritate the skin when used frequently.
Step #2: Apply Toner
After washing your face, you can then proceed to apply skincare products. The first product is a toner. Using an alcohol-free toner will gently sweep away dead skin particles without causing your skin to get dry. Alcohol-free toners contain beta hydroxy acid and pro-vitamin B5 components that protect your skin against moisture loss.
Step #3: Apply Serum
For an effective skincare routine, you might want to consider applying serums before you head on to moisturizing your skin. Facial serums are concentrated formulas that target certain skin issues. Serums that contain hyaluronic acid helps to improve the appearance of wrinkles and fine lines when used frequently. 
For dull skin, go for lightweight serums that reduce hyperpigmentation and improves the tone of the skin as it restores its radiance. Make it a habit to continually apply serums daily, and in just a few weeks, fine lines and wrinkles are barely visible.
Step #4: Apply Moisturizer
Applying moisturizers does a lot for our skin. Creating a protective layer of moisture in the skin that lasts a day, preventing your skin from flaking, and boosting hydration in the skin are few of the benefits moisturizers bring. 
As for people who have oily skin, there are water-based moisturizers that contain aloe vera water and hyaluronic acid that offers long-lasting hydration to the skin. Such products are safe and proven effective for any skin types.
Step #5: Apply Eye Cream
For some, this step can be optional as it focuses on treating and fading away eye bags and dark eye circles. Most people, especially individuals who tend to stay up late and are not able to get enough sleep, struggle with these eye conditions. It can be difficult to avoid developing those dark eye circles because some have no choice but to sleep very late due to loads of work. 
If you want to get rid of such eye pigmentations, you might want to add applying eye cream to your daily skincare routine. Certain eye creams can be applied twice a day, once in the morning and once before going to bed as it stays overnight. Eye creams help to lessen the puffiness on your under-eye area, and it also helps to fade away the dark discolouration around your eye.