Diamond Painting is the paradigm for making a high-quality painting simple. It's a conventional craft that is becoming quite the rage recently, primarily due to its uniqueness.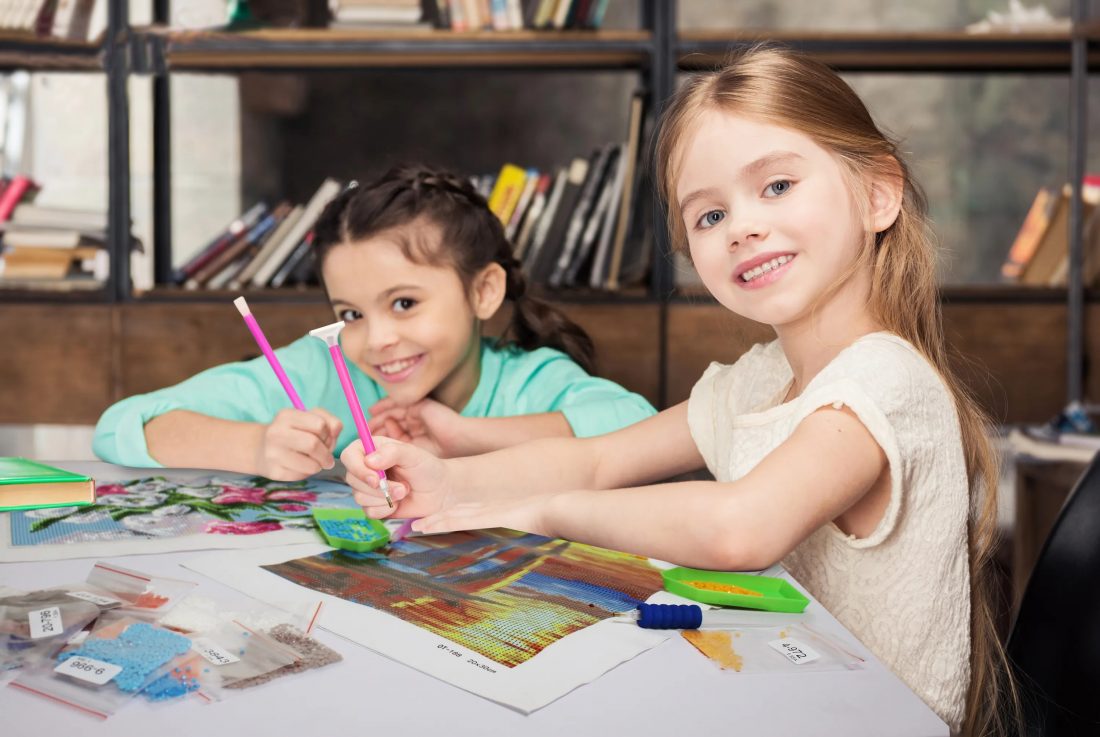 It is a classic pastime in which you arrange the dazzling diamonds on the canvas in specific color-coded spots to create a gleaming, trendy, and captivating work of art. Indulge in a fun-filled logic and discipline venture while also exploring your artistic side!
Experienced designers and craftspeople handcraft each canvas print to provide you with a pleasurable Diamond painting experience and a sparkling art piece for home decor. Diamond painting is more than just recreation; it is an excellent method to de-stress, unwind, and relax after a hectic day at work.
Overall, it is the most exemplary method to uncover your artistic side while also having a pleasurable experience. Diamond art aids you to explore your creative side and helps you begin your journey filled with colors, and enables you to delve into your imagination. And it is more beneficial and interesting as when you get your own digital photo Customized Paint with Diamonds Art.
Some phenomenal benefits of Diamond Art include:
1. Relieves Work Stress:
In this fast-paced world, stress is imminent in our life. Sometimes all we need is an escape, a beam of light to guide us to happiness and prosperity. Let that ray be the sparkle of the shiny diamond beads.
The majority of people experience work stress daily. No one has it easy, whether it's because of old-school employers or because they're in charge of things. Workplace politics adds to the already high level of anxiety.
As a result of these conditions, you will undoubtedly return home exhausted. It might be challenging, if not impossible, to engage in healthful activities that require physical exertion at times.
Diamond painting is ideal for such situations since it allows you to relax without exerting too much energy. It creates a halo of tranquility and containment, which shields you and helps alleviate free-floating anxiety.
2. Acts As A Form Of Self-Expression:
It is undoubtedly perverse to contain the stress and anxiety that constantly overshadows our minds in these challenging times. Amidst all of this, self-expression is vital.
Diamond painting allows you to release all of your tensions while also giving you the mental fortitude to deal with everyday problems. The importance of self-expression these days is immense. Diamond Art reduces stress by providing a creative channel for self-expression. It is a stimulating activity, similar to meditation. It creates a peaceful aura where you find yourself immersed in the painting and feel your stress melting away as you work on the canvas.
3. Boosts Your Self-Assurance:
The key to accomplishing something is to work on it steadily, one step at a time. You might find it hard to find the 'ideal' canvas print to begin crafting as a novice. Diamond painting will, without a doubt, help you get started on your imaginative journey even though you might not define yourself as having artistic abilities.
Don't you worry! Knowing that you have created a magnificent piece of art, investing your time in it gives you a feeling of containment and gives you the boost you require and the confidence to tackle other aspects of life.
4. A Break From Technology:
Diamond art allows you to disconnect and escape from the harshness of modern technology and reconnect with your creative inclinations without causing your eyes to dry out from staring at a screen all day. It's beneficial to do something that excites and motivates you, and that is gratifying. Diamond Art can be fruitful in such circumstances.
5. Increases Social Engagement:
The popularity of All Diamond Art Painting Kits is escalating recently. As a result, a community of people who share a passion for diamond painting has come forth on various social media platforms. Many people with common interests come together on such forums, allowing them to expand their online acquaintance circle and engage in innovative discussions.
Additionally, Involving family and friends in a project also creates beautiful memories and strengthens bonds. Due to various challenges, such online platforms are especially advantageous to those confined to their homes. It gives you a sense of susceptibility, knowing that people who share your convictions are watching out for you.
6. Stimulates Imagination:
Having an art project on hand can enable you to be more creative and explore your productive side. Diamond painting kits come in various designs and fashions, allowing you to see things from multiple angles and provide a creative outlet. The art of painting with diamonds enables you to play with the colorful resin beads and produce a dazzling canvas whose shine reminds you to smile. All the happy memories flush into your mind, making you more optimistic than ever!
This peaceful process allows you to participate in a creative activity without having much of an artistic mindset, which is ideal for most people. The simple instructions make it even easier to create magnificent art that makes you feel like a true artist.
7. Refines Motor Skills:
Motor skills is a technical term for the movement and synchronization of bodily muscles, which is vital for the body to function correctly. It entails the coordination of smaller body muscles with the ocular muscles.
Diamond Painting is a technique that can aid with this. It involves the placing of 2.5mm tiles, which necessitates a great deal of coordination and concentration. The procedure works out the body's tiny muscles and enhances our physical motor skills. It also strengthens your hand muscles, making you more agile and proficient as a craftsman, and improves your overall attention and concentration ability.
Additionally, when reading a design, picking up a drill, locating its correct place, and then installing it, diamond art engages the brain in following patterns using logic and coordinates different muscles, which helps build cognitive and fine motor abilities.
To sum up, create what you imagine with your very own Customized Diamond Painting Kit. The art form helps spark innovation and makes you feel like a true artist in no time! Ascend out your daily work stress and delve into a peaceful aura by luxuriating in the Diamond painting. The craft helps you to unwind without requiring much mental strength.
Last but not least, enhance your art skills in a relatively easy way because life is art. Choose to live yours in color.