This is a sponsored guest post.
Teaching a child a foreign language is known to be the most effective way to build a strong brain. This is the reason why many parents decide to raise their children bilingual or help them become fluent in a second language at a very young age. Growing up as bilingual, a child enjoys enhanced cognitive skills, which directly results in better academic performance, excellent memory, ability to multitask and ultimately enjoy solid self-esteem. Moreover, bilingual children are believed to understand the global world, being aware of its diversities at a very young age.

In today's modern setting, children have access to the internet which additionally makes them aware of the global world we live in. Thanks to modern technology, a parent can easily teach a child a foreign language, whilst most of them are already familiar with certain languages from the content they have access to online.
With all the resources available, the language learning process today is easy, convenient and cheap overall. All a parent needs to do is put some time and effort into teaching and communicating with their child to help them become fluent. Here are some of the best resources you can find online that can help you achieve success in teaching your child a second language from the comfort of your home.
Online Language Learning Platforms
Language learning platforms have certainly reshaped the language learning experience, making it accessible and affordable to everyone. These platforms offer different approaches to learning, and an immense amount of learning materials in written and video formats. Moreover, there are some that offer one-on-one tutoring which is by far, the most effective way to learn.
The most successful approach to raising a bilingual child, or helping them become fluent at a young age, is to learn the language yourself and teach them. Language is all about communication, therefore, communicating using a certain language is the most effective way to become fluent. Let's say a parent is monolingual but has some basic knowledge in French. Registering for one-on-one tutoring lessons at https://www.livelingua.com/french/, or similar platforms will enable them a custom-tailored learning experience that can help in successful learning and transferring of the knowledge.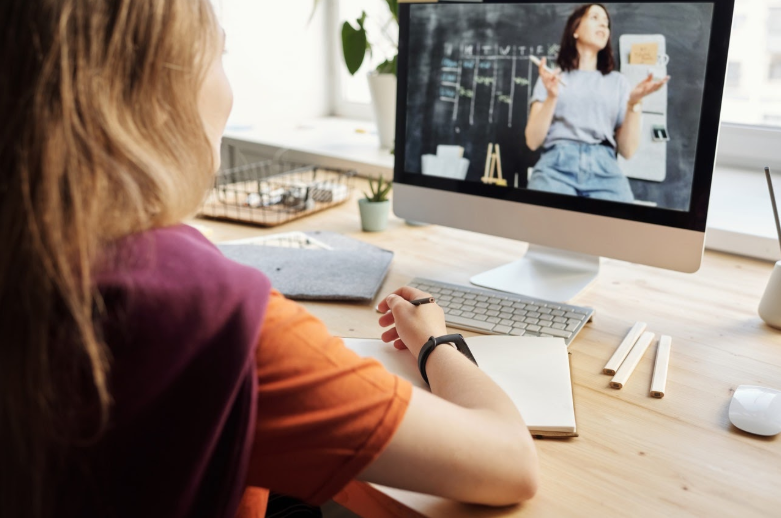 Copyright: Pexels | CC0 Public Domain
If you decide to present your child with a second language once they are old enough to learn by themselves, you can give them the opportunity to learn with a tutor. A personalized approach is important for success in learning, especially at a young age. At last, you can use a language learning platform to learn together with your child, which is stated to be very beneficial for the child's learning process. Thanks to the vast choice of learning platforms, and different approaches, you only need to do solid research and find the one that best suits yours and your child's needs.
Language Learning Video Series
Probably some of the first multimedia inventions specifically intended to help children learn a foreign language, language learning TV series were presented back in the '90s. They have an interesting plot that combines two different languages with repetitions and translation from the one to the other language. Not only that they are fun for children, they help them "pick up" the language fast. As it is proven that learning while having fun is very efficient, TV series should be part of your "screen time" repertoire.
Language learning series are mostly adapted to a certain age. Moreover, you can choose to present your child series that is a combination of your native and a foreign language or series that are 100% in the targeted language but feature images and videos to help the child's brain grasp meanings. A combination of both is most recommended. You can find such series on online streaming platforms or pay to download and watch them. In most cases they are affordable and you can find some for free on Youtube, Vimeo, etc.
Copyright: Pexels | CC0 Public Domain
Language Learning Video Games
The majority of parents perceive video games as completely useless and time-wasting activities, but this is not completely true. Moreover, almost all video games, even those that are intended as a fun activity only, help the child develop good motor and problem-solving skills. Today, more than ever, there are video games developed to primarily deliver knowledge besides the fun part. There are video games available that are tailored to help a child learn and become fluent in a foreign language.
As mentioned before, the most effective way of learning in children is while having fun. Therefore, it is worth investing in a language learning video game that a child will perceive as a fun activity but it will greatly benefit from its content.
Music and Animated Movies
Once your child is familiar with a language basics and has a certain number of words in its foreign language vocabulary, you can present them with music, cartoons and animated movies in the targeted language. Children and people in general, take satisfaction from what they are able to recognize. When a child listens to a song in the targeted language, it can easily recognize it and feel good about it. Moreover, this will grasp their attention and the child will soon learn the song/s and thus enhance their vocabulary and comprehension abilities.

Audiovisual media, in general, has a very powerful effect on our perception, thus forming permanent memories. Therefore, every time a child listens to a song or enjoys watching an interesting animated movie, it will unconsciously pick up common phrases, words and start making comprehension of the newly acquired language. At last, a child will learn effectively when he/she is not forced to sit at the desk to study certain material.
Incorporating creativity in the learning and teaching approaches, together with fun and quality parent-child time, will result in successful learning of the foreign language and helping a child become bilingual at a young age.