This is a sponsored guest post.
When it comes to personal beauty and care, hairstyling plays a crucial role in defining your personality. A complete makeover starts with an appropriate hairstyle, which can help you look younger even by five years. Lots of women today love to experiment with their styles and do not hesitate with a new hair look.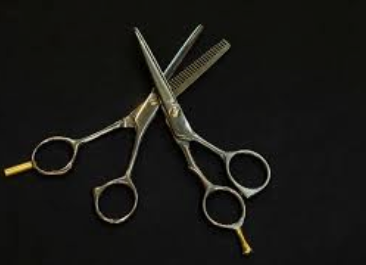 Personal styling at home is the best way to save money. However, it requires specific knowledge about which makeover can suit you best and how to go about it. With many DIY tutorials, you can get the best of the hairstyle which you were aspiring for so long. It will save your trip to a beauty salon and a lot of money too. However, these tutorials miss out on emphasizing quality tooling, which requires a perfect hair cut.
Yes! We are talking about hair Cutting Shears, which provide a clean and professional haircut without much effort. You can get them online from stores like www.scissortec.com but you must have thorough knowledge about these shears.
What are hair cutting shears?
Shears are 6-inch long with equal eyes to allow the user to insert more than one finger for a firmer grip. Most of the shears are specifically designed for the specialized haircutting job. Scissors are mostly under 6-inches of length, where the one handle is larger than the other.
On the other hand, shears have equal handles and are often used for lighter cutting tasks.
How are hair cutting scissors made?
The main component used in making hair cutting scissors is stainless steel. Most of these scissors are made in Japan, Germany, India, China, or Pakistan. If you are looking for the best scissors, consider buying the Japanese quality scissors. Indian and Pakistani scissors are priced low, and you cannot expect much quality from them
The scissors are stainless, but that does not imply that these shears are stain-proof. You need to undertake good care to prevent stains. Compared to the stamped and cast scissors, hand-forged scissors are considered as best. These scissors are provided with sharper edges, and you do not have to drag a lot on blades.
Most of the scissors have a uniform hollow-grinding blade, which is concave-shaped towards its inner edges. Most of the high-quality scissors have thin beveled edges. The shear with thick beveled edges is prone to higher deterioration and hence should be avoided.
The latest shears today are made convex towards the edges to facilitate the stylist with free flow haircuts.
How to get a perfect hair cutting shear?
Here are some of the tips which can help you in choosing the perfect hair cutting shear:
Temper and hardness
The harder blades in shear are meant to provide more consistency with the hair cutting. The edges should be firm, which helps in bringing uniformity.
The handle should be comfortable
The 'eye' provided to hold the shear while haircutting should be relaxed. Choose a shear that is a perfect fit for your finger size. Few shears are available with the plastic coating or rubber lining to ensure extra comfort to your finger. You can easily hold such shears for a long time without any discomfort.
While choosing a shear, test it out in your handle with a finger inserted to know how comfortable it is.
Smoothness while working
Whenever you open or close the tool, you should feel smooth, and it should work like a breeze. Implying too much pressure with every operation may lead to too much fatigue.
The screw and blades
The slightly concave blades are highly recommended to look for while purchasing a perfect haircutting shear. They should meet at the same point at a specific angle. The screws joining these blades should be firm enough to allow it to sharpen and reassemble with ease. A very tight or loose screw will undoubtedly defeat the purpose.
Length of the shear
The right measure is significant to pick the right cutting shear. Measure the length of the blade to the extent of your middle finger. The total length should be measured against your palm. You will find most of the scissor with the height varying from 4'5″ to 8″.
Left-handed Vs. Right-handed
If you are left-handed and pick-up a scissor meant for right-handed, you need to put more pressure and precision to execute the right haircut. Hence, you should pick a shear that is specifically intended for the left-handed people. Such shears have a sharp edge on the top blade towards the left-hand side.
Do you need additional inserts for handles?
At times, you end up choosing a shear that is loose or sloppy towards the finger holes. In such cases, you are required to exert more to get a precise cut. There is a plastic insert available in the market, which can shorten the finger holes and make it exactly fit your fingers.
What are ergonomic scissors?
You can find such scissors by many brands that claim not to put tension into your hands. They are shaped specially to ensure minimal pressure on your hands while haircutting. It helps in minimizing the pain on your hair while cutting. Off-set, double swivels and swivels are some of the ergonomic styles which are widely available.
What are the various varieties of scissors?
Two variants of scissors are available as small and more prolonged. Small scissors have a length between 4.5″ and 5.5″. These are tailor-shaped to ensure smooth haircut. Most of the long scissors are more than 6″ and are best for the haircutting techniques like scissor over comb. Longer scissor takes considerably lesser time for scissor over comb techniques.
Smaller scissor does the same job as longer ones. However, small scissor takes more time for the same job, but it provides more precision and accuracy. Most of the hairdressers carry a variety of scissors with different lengths to create a hairstyle with higher efficiency.
It is recommended to use smaller scissors for the top while creating the shape and more giant scissors to use the techniques of scissors over comb.
How to test the quality of shears?
Following are the two parameters which one should look for to assess to quality of shears:
Inspect the shear deeply while in the closed position to understand if both the blades are meeting equally. If you can see between the blades, it means that the shears are constructed flawlessly.
Now open the shears fully and notice if the blades are falling towards each other. If the blades neither stay open and nor stay closed completely, it indicates the right make. The blades should meet them halfway.
How to maintain shears to ensure long life?
To maintain the shears long-lasting, you should re-sharp them occasionally. The point near the screw should be oiled with a drop of oil to preserve the tender movement of the shear.
Always clean the shears using a damp cloth. If you are using shear for colored or permed hair, make sure to clean them using alcohol after use. Whenever the scissor is unused, always keep them in case safely to avoid contact with dirt particles or moisture.
You should get your scissor services at least once a year. It includes cleaning, balancing, and setting. Sharpen your scissors depending on the use. For scissors that are frequently used often need more sharpening.
Never use your hair cutting shear for any other purpose. It can affect the sharpness of the blade, and your scissor is likely to go blunt early. Maintaining your scissor carefully can save you from replacing it soon.
Does it matter what kind of shear you choose for a hair cut?
Yes! It matters a lot, indeed. If you are using an old or blunt pair of scissors to trim your hair, do not expect a clean cut. You will end up with a jagged haircut. Blunt or old scissors also damage the cuticles, leading to the split ends. And if you think you can get rid of these split ends with the same scissor. You are wrong! You will end up damaging more cuticles, and more split ends. Temporarily, you may get rid of split ends, but eventually, you shall be trapped in a vicious circle.
Hairdressing scissors are a versatile tool that is best suited for different hairstyling techniques. You may require a different type of scissors for a single haircut depending on complexity. Scissors are available in varied sizes, and each of them has a specific purpose of solving as well as suited for a particular technique. Best quality scissors are a considerable investment. If appropriately maintained, these high-quality scissors can even serve you for a lifetime.
Choosing the right scissor is imperative to kick-start as a hairstylist or successful execution of your DIY hairstyle projects. These scissors are more of an extension of your hands and gradually start reflecting your personality.
The market is flooded with the full range of brands, each emphasizing specific pros. However, picking the right scissor depends on your personality and style. If you are right on your basics, you can never go wrong with the choice.
Once you start collection scissors, eventually, it may become a hobby or even obsession for you!