I was invited by Disney on an all expenses paid trip for my coverage of the #GoodDinoEvent, #ABCTVEvent, & #LionGuardEvent.  I received Disney Infinity products and some of The Good Dinosaur Toy Products while attending the event.  All opinions are my own.
Have you seen The Good Dinosaur yet?  Hopefully you saw it over the Thanksgiving holiday weekend and you love it just as much as I did. (Read my review of The Good Dinosaur Movie).  If you haven't, be sure to take the whole family, everyone will enjoy it so much.  It is such a fun and heart warming movie.
Because everyone is loving The Good Dinosaur movie so much, it is very exciting to get to show you the fun toys and products that are now available!
While in LA I had the chance to get a presentation from the Disney Consumer Products Publicity Team showing some of the many fun new toys and products for The Good Dinosaur.
There are so many fun items that are definitely going to be big hits with kids this Christmas!
Here is a video of the Disney Consumer Products Publicity Team showing us the products…

These are my personal favorites and the toys I think are must haves!
The Good Dinosaur Stomping Dino Feet
"They'll take their first steps to imagining themselves as a dinosaur when they wear these Stomping Dino Feet. Featuring motion activated stomping sounds, they'll star in their own version of Disney•Pixar The Good Dinosaur."
Available at The Disney Store.
Arlo Animated Talking Figure with Spot – The Good Dinosaur
"Young Arlo makes a big impression with motion-activated stomping sounds as he roams the plains with his little friend Spot on his back. The Good Dinosaur also has plenty to say for himself as this animated figure speaks 11 phrases."
Available at The Disney Store.
Galloping Butch
"Watch out! It's rough and tough Galloping Butch! A rugged Tyrannosaurus Rex, this stoic and intimidating rancher is a cattle rustler's worst nightmare. Galloping Butch towers over the other dinosaurs at 8" tall. Hold down the button on his tail and watch him as he turns his legs in a galloping action. No longhorns can outrun this T-Rex!
You can also hear his mighty roar and watch his jaw open in biting action when you lift up either of Butch's arms. Butch says 8 sounds and phrases from the movie, such as "We got longhorns to round up." and "Head off those longhorns!" This T-Rex does not mess around!"
Available from Tomy in major retailers like Target.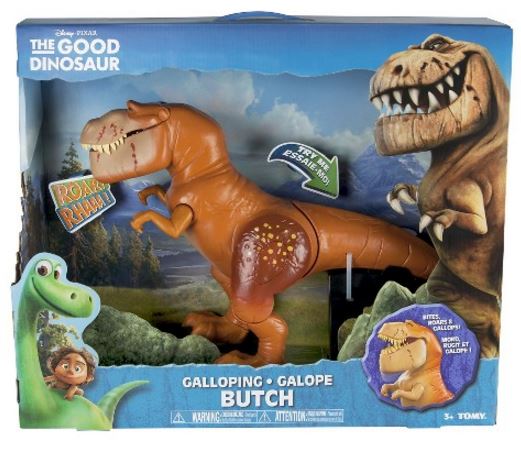 There are so many fun choices out there, and kids are going to love playing with The Good Dinosaur toys and reenacting their favorite parts of the movie.
We also had the chance to get a presentation from the people at Disney for the new Disney Infinity 3.0.  It is a very fun and exciting addition to the Disney Infinity line.  With a lot of new fun to be had. Some of the new additions are Star Wars, Inside Out, and The Good Dinosaur!
You can play with Spot from The Good Dinosaur in the toy box of Disney Infinity 3.0! Also available is The Good Dinosaur Power Disc Pack, it gives you 4 different Dinosaurs from The Good Dinosaur movie to play with in The Disney Infinity 3.0 toy box.  My son loves that he now has Dinosaurs in the toys box, he thinks that is so cool! He loves Disney Infinity 3.0, the Star Wars characters and levels are a huge draw for him.  He has also been having a lot of fun playing with Spot and Arlo in the toy box.
Another bonus of Disney Infinity 3.0 is that it has a toy box hub that is much easier for younger players to be able to enjoy playing in the toy box. Also, you can download fun worlds to play in for free, including The Good Dinosaur worlds.
Also, there will be a Star Wars The Force Awakens play set coming out the same day as the movie, December 18th!
Disney Infinity 3.0, playsets, individual characters, and power discs are available at The Disney Store and in major retailers nationwide.
All of these The Good Dinosaur toys & Disney Infinity 3.0 will make fantastic Christmas gifts this year! 
The Good Dinosaur Toys

&

Disney Infinity 3.0

get Bragging Rights!
Free fun printable activity sheets.
Follow THE GOOD DINOSAUR on Twitter, #GoodDino
Follow THE GOOD DINOSAUR on Instagram
Like THE GOOD DINOSAUR on Facebook
Follow  THE GOOD DINOSAUR on Pinterest
Visit THE GOOD DINOSAUR on Tumblr 
Follow Disney/Pixar on YouTube
"The Good Dinosaur" asks the question: What if the asteroid that forever changed life on Earth missed the planet completely and giant dinosaurs never became extinct?  Pixar Animation Studios takes you on an epic journey into the world of dinosaurs where an Apatosaurus named Arlo makes an unlikely human friend. While traveling through a harsh and mysterious landscape, Arlo learns the power of confronting his fears and discovers what he is truly capable of."-Disney Pixar