This is a sponsored guest post.
Bread is a staple diet around the globe since the dawn of our civilization. From pizza bases, banana bread, sourdough, and toast to our regular white sliced bread, everything is an integral part of the global food chain. Making bread isn't as easy and enjoyable as eating it is. Bread making is a lengthy process that demands efforts and time from the maker.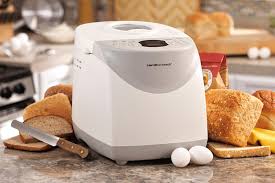 The time-consumption is the reason most of us prefer to buy it from a bakery or a supermarket. However, the picture is changing with the arrival of bread machines. Bread makers or bread machines are turning people into amateur bakers who are making bread loaves at home.
Let's talk about bread machines. A bread machine is an electric device that works like a compact oven, and it contains a single tin. You have to insert bread ingredients in that large bread tin. The tin has components like a bottom with connection to an electric motor, a small paddle and an axle. The axle gets pushed from the paddle.
The bread making process is entirely automatic one you do some necessary steps. You put the paddle in the bread tin, take out the tin and fill it up with ingredients needed for bread. Make sure to measure the ingredients before you load the tin.
Insert the tin in the bread maker, and you can choose the recipe from the electronic panel of the machine. Close the glass lid. The motor starts spinning the paddle, and it kneads the dough. Once kneading is finished, the rising phase begins. Then one more round of kneading and proving.
In the end, the machine starts the oven to bake the dough, and steam starts coming out from the exhaust vent of the bread machine. You can smell the aroma of bread. If you read the recipe books coming with the bread makers, you can make a wide variety of freshly baked bread types at home.
How to Store Bread For Longer Period?
Most people make one single biggest mistake when it comes to storing the bread – Keeping it in the fridge. Bread becomes stale quickly in the refrigerator, and it's better to keep it open at room temperature. Here's a quick guide to storing a bread loaf:
Wrap: Wrap the loaf either in a plastic or aluminium wrap. Some people prefer paper wraps but bakers recommend wrapping it up in a plastic or aluminium foil to preserve the moisture of loaf.

Tip: never keep the bread loaf outside without wrapping it inside plastic or foil.
Room-temperature: Keep the wrapped loaf outside at room temperature for one or two days max. After that, it starts to get stale. Keep it in a clean, cool place like a pantry or a bread box. If your room has high humidity, you can skip directly to freezing the bread loaf once you've eaten the fresh portion.
Freeze: Once you've kept it outside at room temperature, you can put the extra bread inside the freezer. Wrap it in plastic, or a heavy-duty aluminium foil(your standard foil isn't suitable for freezing) and put it inside. Make sure to make slices before you freeze it. Post freezing slicing is hard.

Thaw: If you have frozen bread, take it out of the freezer. Remove the wrap and let it outside to thaw for some time. If you like crispy texture, you can heat it in a toaster or an oven for a quick-5 minute timer. It's only suitable for one-time heating and after that it's not good for eating. So either finish the loaf or throw away the remaining portion.
Bread Machine or Shop-Bought Bread?
Bread makers are a better, cheaper alternative if you are a regular consumer of bread. Fresh bread is excellent for health. If you like to cook your variety of fresh bread, this machine is for you.
An excellent bread maker costs anywhere from USD 200 – USD 400, and a single loaf of bread is anywhere around $2.00 – $4.00, depending upon the market and variety. Also, don't forget to read bread machine reviews online before you buy.
If you have a large family, it's a long-term investment and saves your money as prices of baked products are increasing. However, if you usually buy the cheapest bread packet in the store, it won't pay off the investment. In a nutshell, it's cheaper than buying store bread.
Bread Machine: Is It Energy-Efficient?
A regular bread making machine consumes around 0.35 kWh to bake a single loaf of white bread, whereas baking the loaf in an electric oven uses 1.7 kWh energy. And a gas oven needs 1.4 – 1.5 kWh energy for a loaf. It's safe to say that best bread machines are indeed energy efficient.
Bread Machine: Is it Easy to Use and Worth It?
The first answer, yes, bread makers are quite easy to use. You don't have to sweat out of making a loaf. It does all the work like kneading, proving and baking. You have to pop the ingredients in it. Read the instructions and push the buttons on the panel.
The second answer, yes, it's worth it if you have a vision for the long term. It gives you the pleasure of becoming an amateur baker at home.