BOO! 
ALL-NEW CASPER THE FRIENDLY GHOST® DVD COLLECTION HITS STORES TODAY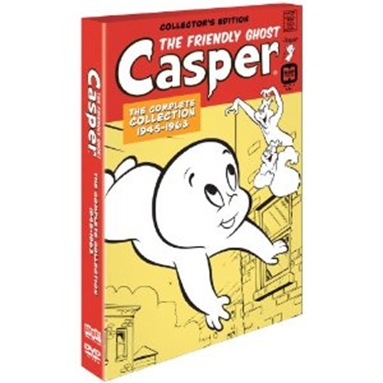 Shout! Factory Releases All 81 Cartoons Created Between 1945-1963 In One Complete Set For The First Time On October 11!
"Casper the Friendly Ghost®—the star of thousands of comic books, hundreds of cartoon episodes and a blockbuster Steven Spielberg film—has always been more interested in making friends than frightening. Joining him on his escapades are the endlessly antagonizing Ghostly Trio and Casper's good friend, Wendy the Good Little Witch. All of their adventures and fun will come to life on October 11, 2011, when Shout! Factory releases the Casper the Friendly Ghost Collection, much to the delight of fans everywhere!
The 3-disc DVD set will include all 81 cartoons created between 1945-1963, as well as extensive bonus features giving fans and collectors the opportunity to own the most complete Casper DVD set for the first time. A must have for fans of the series and DVD collectors, the Casper the Friendly Ghost Collection will retail for $29.93. Fans of the series can also order the DVD from Amazon.com.
The Casper the Friendly Ghost Collection DVD set will contain 81 cartoons—55 original theatrical cartoons and 26 New Casper Cartoon Show episodes including a rare episode that was never released on home video in any format; an array of bonus features such as commentaries with Casper expert/writer Mark Arnold of the book The Harveyville Fun Times, an interview with voice actor Bradley Bolke, a gallery of comic book covers and more, all totaling over seven hours of content.
Casper the Friendly Ghost first appeared in 1945 when Paramount released three theatrical shorts. He ultimately became one of the Studio's biggest animated stars. In 1950, at the height of his fame, Paramount expanded the cartoons into a successful TV series. In 1952, Harvey Comics became the publisher of Casper comic books and went on to publish them for more than 40 years."
 Bonus Features:
The Casper the Friendly Ghost Collection
Commentaries with Comic book and animation historian Mark Arnold (author of The Harveyville Fun Times), Alison Arngrim (daughter of Caspervoice actor Norma MacMillan), voice actor Bradley Bolke and Edmee Reit (widow of Casper Co-creator Seymour Reit)    
Gallery of comic book covers and more!
Bug loves these Casper cartoons and this set has 7 hours worth!  This is a perfect gift for your kids just in time for Halloween!
Casper The Friendly Ghost Complete Collection gets Bragging Rights!