We were so excited to get to try out these two great products from LeapFrog.  We were also lucky enough to be sent extra items to host a "Learn Create, Share" Party for Bug and his friends! First let me give you a little info about each product:
LeapPad Explorer Learning Tablet:
"Introducing LeapPad™ Explorer, the personalized learning tablet just for kids with:

• A library of 100+ cartridge games, apps, digital books, videos and flash cards 
(sold separately, also works with all Leapster Explorer™ games and apps).
• Includes a built-in camera & video recorder, 5" touch screen for use with finger or included stylus.  Also includes 4 apps (Pet Pad, Story Studio, Art Studio and one app of your choice).
• 2GB of memory, enabling it to host a robust suite of apps including: innovative book apps that provide a fully interactive, cinematic reading experience with word-by-word support and state-of-the-art gameplay; a Story Studio to combine art, audio and writing; Art, Animation and Photo studios to inspire imaginations.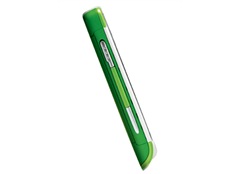 • A broad curriculum including reading, mathematics, science, geography, art, music, language and culture, health and more. Plus, skill levels automatically adjust the challenge to match each child's pace and remember progress from game to game and book to book.
• Access to see learning progress through the online LeapFrog Learning Path.
Parents can also share their child's achievements, artwork and creations with loved ones.
• Limitless learning and endless play for children ages 4 to 9 years."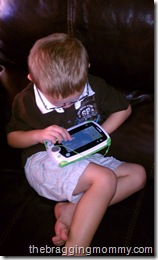 Bug was ecstatic to receive his own tablet (since his dad has a tablet).  He keeps saying "This is my tablet", he is so proud of it.  Even better is how fun it is.  It has a built in camera that captures both still images and videos.  This is a very popular feature with Bug.  Another fun thing is that he can edit his images afterwards and he has a lot of fun with that.  It comes with 4 apps. and you can purchase additional game cartridges as well as apps online.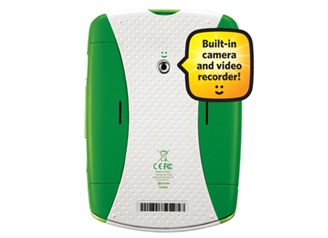 LeapFrog Tag Reading System: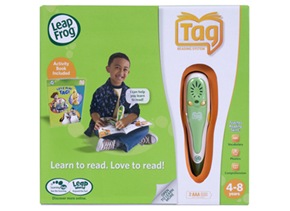 "Tag brings stories to life with each touch to the pages of specially printed storybooks. Words talk, pictures come to life and stories live out loud, engaging children's senses to make reading a rich, fulfilling experience.
Now re-sized to better fit little hands, the Tag Reader holds audio for up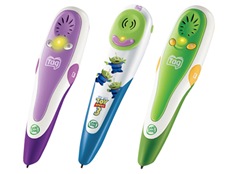 to 10 titles at a time from our library of 40+ books and games! Simply connect the Tag Reader to your computer with the included USB cable, download the audio for your Tag books and drag-and-drop up to 10 of your child's favorite stories and games onto your Tag Reader.
And parents can see details of their child's play and learning with the LeapFrog® Learning Path."
The Tag Reading System is a great way to help your child learn to read. Bug loves to have books read to him and now that he has the Tag he can read books by himself word by word.  It is a great way for him to learn letters and words.  There are different options for reading a book.  It is really fun that they have books with Bug's favorite characters.  This makes learning to read a lot of fun.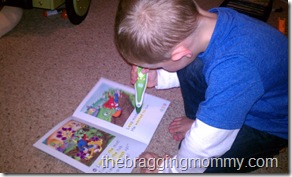 At the party the LeapPad was definitely the star!  The kids were fascinated with it and could hardly wait for their turn to play with it.  Each child loved it so much in fact that I heard them asking their parents to buy them one when the party was over :)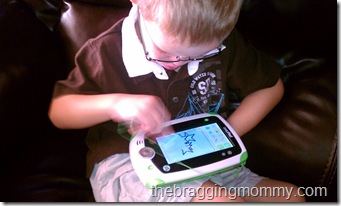 The kids at the party were also excited to try out the Tag Reading System.  Especially when I pulled out the big World Map.  They couldn't wait to try it out.  I love how much they can learn so quickly with the Tag.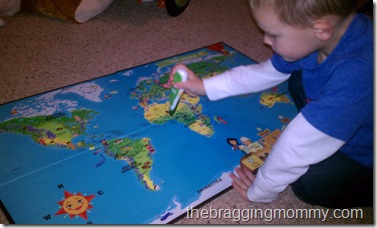 We had yummy treats and played super fun games with the Tag & LeapPad, we even had worksheets & coloring sheets from LeapFrog for the kids to use.  It was a great party, the kids had a blast! And all took home coupons for these LeapFrog products.
You can check out both of these products at www.LeapFrog.com!
The LeapPad Explorer Learning Tablet and Tag Reading System get Bragging Rights!