"The Contours Options II Tandem is the perfect stroller to give you the flexibility needed as a parent. For one or two kids, infant or toddlers, everyone has a great view in any direction with its reversible seats! It is the ultimate stroller with lots of options for your ever changing life style!"-Kolcraft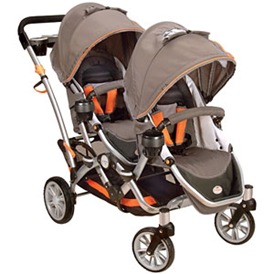 I couldn't wait to try out the Contours Options II Tandem Stroller, just from looking at it online I knew it was going to be amazing.  Once it arrived I put it together immediately cause I couldn't wait.  It was really easy to put together, nothing to complicated.  It took me about an hour to put together.  Once it was all assembled I was able to look at all the fabulous features it has to offer  Things that are Brag Worthy:
Seats easily reverse to create 6 different stroller options: children can both face parent, face each other, face forward, back to back, with front seat only and the back for extra storage, or with an infant car seat.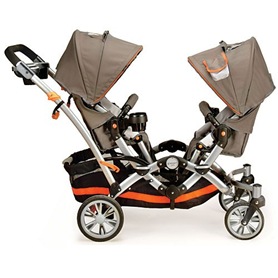 Infant car seat attachment fits most car seat brands on the market. Additional car seat attachment is sold separately to accommodate twins!
Both seats recline for infant's comfort
Easy-reach child swivel cup holders
Removable iPod® Dok with speaker plays baby's music anywhere
Steering with two 8″ front single swivel & 10″ rear never- flat wheels
Easy-trigger fold and convenient Free-Stand™ allow the stroller to stand upright!
Peek-a-boo window on canopy to easily view your child
New easy-reach tray is closer to the parent and more accessible, with an open-air compartment and deeper, ventilated cup holders
Easy Toddler Step in Steps, so your child can get into the stroller on their own
Other children can walk & use the hold-on handles
Infant head rest protects newborn's head
Adjustable canopy can be raised or lowered to the height of your baby
Large storage basket
Height adjustable 5-point harness for safety and padded sleeves for comfort
Isn't that such an amazing list?!  I think so.  I really love this Double Stroller and I fall even more in love each time we use it.  The colors are really nice and look great. I love that it has a really sturdy frame, I can tell it is quality made and will last for years.  The fact that the kids can sit facing each other is so fun and the kids love it.  The adjustable canopy makes me a very happy mama as some strollers aren't usable once your child gets to tall.  Not this one, now your tall tots can still sit in the stroller.  Making this stroller have more Bang for your Buck as you can use it from the time they are newborn.  We really enjoy having an ipod dok as now we have some tunes to listen to while we are on our walks. Another great feature is that this stroller can be used as a single stroller giving mom & dad tons of room for shopping bags, etc…Mommy likes that! I could seriously go on and on about all the fabulous features of this stroller, I love it and highly recommend it to all parents!
You can see this Stroller online and also see where it can be purchased.
The Contours Options II Tandem Stroller gets Bragging Rights!

Silent Auction: The highest bidder of this auction will win a Contours Options II Tandem Stroller ($279 Value).  All proceeds from this silent auction will be paid to K.I.D.S..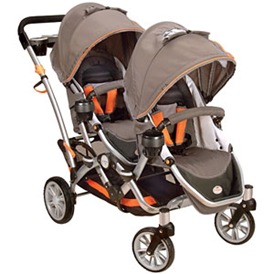 Bidding will start at $5 and will increase in increments of $5.
To bid in this auction simply leave your bid amount in a comment below.
AUCTION IS NOW CLOSED
The auction will end on January 24th at 10:00 AM MST.  At that time the highest bidder will be contacted via email and will have 48 hours to contact us back and make their donation to K.I.D.S. (All details of this process will be emailed to the winner). If for some reason the highest bidder doesn't claim or pay, the next winner will be the second highest bidder, and so on.  This Auction is open to the US only.  The Stroller for this auction is being donated by Kolcraft. All proceeds of this auction will go to K.I.D.S. to learn more about this charity click here.
*I received the Contours Options II Tandem Stroller from Kolcraft for my review.