"Dirt Devil's Quick Flex 2 in 1 has 12 Volts of power and motorized brushroll for all your quick pickups. It has two convenient uses; powerful surface cleaning with the stick vac and easy above floor cleaning with detachable hand vac. Fold down handle, fingertip control, and easy storage make this mighty combination a perfect accessory for any home."-Dirt Devil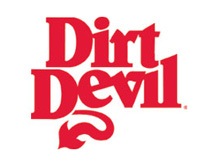 I have really been enjoying my new Dirt Devil Quick Flex 2 in 1 Hand and Stick Vacuum.  I have been wanting to get a hand vacuum for a while now for those small clean up jobs,for vacuuming out the car, and cleaning off furniture.  So when I saw the Dirt Devil Quick Flex I knew it would be perfect because not only is it a hand vacuum, it is also a stick vac.  The stick vacuum is perfect for vacuuming my laminate floors, and getting furniture and in hard to reach places.  It does a really good job of picking everything up.
I really love the way this vacuum is designed.  It is really easy to get the hand vac in and out of the stick vacuum set up.  You simply press a button and pull it out, then to put it back you just click it into place.  I also like that the handle (just above where the hand vac sits) folds down making it more compact for storage. 
The battery is rechargeable, you simply plug it in to charge.  It is cordless when you are using it.  It has great power for a hand vacuum and I am really enjoying having this handy little vacuum around my house!
Things that are Brag Worthy:
Ultimate Cleaning Machine – everything you need for fast cleaning and quick spruce-ups
Hand Vacuum for above floor and Stick Vacuum for quick floor cleaning in one machine.
Built-in Crevice Tool – reaches to reach tight corners and edges
Dusting Brush – great for cleaning upholstery and textured surfaces
Rechargeable Battery – approximately 10-minute running time
Light indicates power of the charge
12 volts of power
Fold Down Handle – for easy storage, even in small closet spaces
Swivel Nozzle – allows for easy maneuvering across the floor
Sleek design – featuring Dirt Devil's signature red with a touch of silver
Warranty – 1-year factory guarantee
This Quick Flex Vacuum is available in-stores now at retailers nationwide, or visit DirtDevil.com.
The Dirt Devil Quick Flex 2-in-1 Hand and Stick Vacuum gets Bragging Rights!
*I received a Dirt Devil Quick Flex for my review.