Traveling can be both incredible and life-changing. However, it can also be expensive, particularly if you want to travel for a long time. Long-term traveling usually means you either need to quit your job or take an unpaid sabbatical – both of which can have a hugely negative impact on your finances and your career.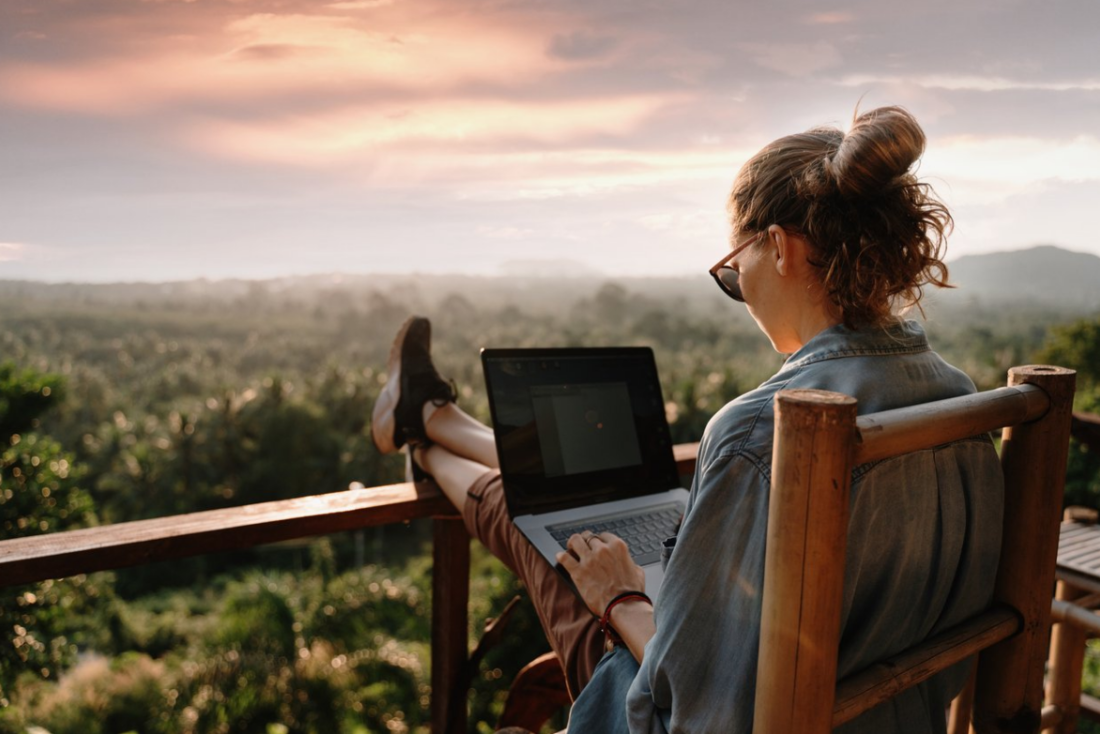 Choosing to sacrifice your career or finances to travel, or working hard all year for one short holiday may both seem like unattractive options.
This is why traveling is often a dream that most people can only wish for. Luckily, there is another option – you can travel the world and work at the same time!
You may be wondering how traveling and working at the same time is even possible. After all, work can be tiring enough without factoring in flights, train rides, hikes, sightseeing, and adventures!
Luckily, traveling and working is much easier than many people realize. You can still have all the adventures you've been dreaming of, earn money and even experience a positive impact on your energy and motivation at work.
Let's take a look at how traveling and working is a real possibility for you.
How to Travel and Earn Money Simultaneously
You may already have a job that allows you to work remotely and offers flexible working hours. If your current job doesn't allow that, you may be wondering how you can still work if you are traveling.
The easiest (and most popular) way to earn money while traveling is to teach English. The demand for English teachers across the world is constantly growing.
Working as an English teacher allows you to explore new cities, counties, and continents. You can gain valuable work experience, earn an impressive wage and still fulfil your dreams of traveling.
If you are looking to teach and travel, you have several options available to you:
Teach English online.
Teach English in a school or language center in another country on a more long-term basis.
Travel to different countries, working at different schools or language centers for several weeks at a time.
If you want complete flexibility and freedom to travel spontaneously, with no limitations or restrictions, teaching English online is your best option.
Is Traveling and Working Right for You?
When deciding whether working and traveling at the same time is right for you, there are some important considerations you can make.
It could be a great option for you if:
If you don't have the savings to fund your travels.
Your job allows you to work remotely and work fewer hours.
You would be willing to consider another career that would make traveling and working possible.
You want the freedom and flexibility to travel for as long as you want.
You are looking to make a lifestyle change.
You want the option to stay in one location for longer or move on more quickly.
You enjoy working online.
Why Teach English Online?
Teaching English online gives you more flexibility. You can teach from anywhere in the world, no matter where your students are based. This means you can travel as much and as far as you want, as long as you have a good Wi-Fi appointment.
All you will need is a TEFL qualification, which you can get online. You can then sign up to an already existing online teaching platform or company or set up your own freelance online teaching business. You can then teach online through video chatting to students all over the world.
You can work as little or as often as you want, depending on how much money you want to earn and your travel plans.
Top Tips for Working While Traveling
Working and traveling at the same time can be difficult, and sometimes stressful. However, by following these tips and being aware of the potential difficulties you could face, you could make work and traveling a success.
1. Work out how many hours a day you need to work
Because you will want to maximize your traveling opportunities, you will probably want to work as little as possible. Calculate how much money you need to earn and the minimum number of hours your employer requires of you every week.
2. Choose your working hours wisely
To make the most of your traveling experience, you will likely want to work in the morning or in the late evening. This gives you most of the day to explore.
3. Be aware of potential distractions
Distractions could come from your fellow travelers, background noise or even your own family. Working in a room by yourself and closing windows and doors is a good way to minimize distractions.
4. Ensure you maintain a work-life balance ­
Balancing work while you are traveling can be difficult, especially because you'll likely be working from your accommodation. However, there are some great tips you can follow to help you maintain a good work-life balance. This can help you to make the most out of your traveling experience.
5. Check your internet access
Before you book accommodation or travel to a particular area, check there is a good Wi-Fi connection. Without the internet, you won't be able to work remotely, meaning you won't earn any money.
6. Learn some of the local languages
Even if you are traveling to multiple countries, learning some important words and phrases in the local language can make your working and traveling experience much easier. For example, if you have a problem with your laptop or your internet, being able to ask for help will be pivotal.
Final Thoughts
Traveling the world while still working and earning money is an attractive option. You can fit your work to your lifestyle, explore around your working hours and earn money no matter what time zone you are in.
Whether you continue to work in your current job or look at changing your career you can still earn money and work around your adventures.
Although working and traveling may sound stressful, making it work for you couldn't be easier.