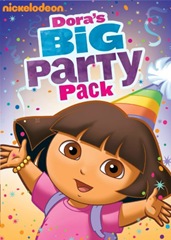 My daughter LOVES Dora the Explorer, so she couldn't wait to watch Dora the Explorer: Dora's Big Party Pack DVD! Dora is a great way for kids to learn simple words in Spanish and to just have fun! This is a great DVD Box set and is all about parties and birthdays. I love that there are 3 DVD's and each one comes with several episodes!
EVERYONE IS INVITED TO THE BIGGEST FIESTAS OF THE YEAR!
Leah's favorite episode was Dora Helps the Birthday Wizzle. "Dora is reading a storybook about a Birthday Wizzle who could make birthday wishes come true with his magic wand. Today was his birthday so it was his turn to make a wish, but a wind came in and blew the wand out of the book. Dora must jump into the book and bring the wand back to the Wizzle so he can make his wish"
The other episodes are so much fun! Leah also loved the episode:
Dora the Explorer: Dora's Big Birthday Adventure
"A twisting wind has blown Dora and Boots into Wizzle World, a land located in the Magic Storybook. Dora and Boots can't jump out of the Magic Storybook without first taking Dora's crystal to the Wishing Wizzle so he can wish them back home in time for Dora's birthday party with all her family and friends. The episode guest stars Rosie Perez, John Leguizamo and Hector Elizondo."
The other episodes included on the DVD's are:
"Wizzle Wishes
Dora and Boots meet a cute little Wizzle who lost his bag of wishes and can't get home. Our heroes set off in search of the lost wishes, but their friends keep finding the wishes first and their wishes get everyone into trouble.
Dora the Explorer: Super Silly Fiesta
Super Silly Fiesta
Dora and Boots are invited to the Big Silly Chicken's Super Silly Fiesta. The Big Red Chicken loses the cake for his party so Dora and Boots set off to save the fiesta.
Boots' Special Day
Today, Boots gets to do anything he wants because it's his special day!
Stuck Truck
When Ice Cream Truck gets stuck in the muck at Play Park, Dora and Boots are off to the rescue.
The Big Potato
Benny the Bull finds a magic wand and turns himself into a potato by mistake. It's up to Dora and Boots to bring their potato friend back to the Young Wizard so that he can change Benny back into a bull.
Dora the Explorer: It's A Party!
Daisy, la Quinceañera
It's Dora's cousin Daisy's quinceañera! The party can't start until Dora and Boots teach everybody the mambo.
The Big Piñata
Dora and Boots are trying to win the Big Piñata. They need to collect ten yellow tickets by playing carnival games.
Surprise!
It's Boots' birthday, but Benny the Bull is stuck on a hot air balloon that's leaking and floating toward Crocodile Lake. Dora and Boots rush off to rescue their friend.
The Fix It Machine
Boots has a hole in his boot but Dora knows what to do. The Super Duper Fix-It Machine can fix it right up!" (Press Release)
"Prepare to laugh and celebrate with the release of the new DVD box set Dora the Explorer: Dora's Big Party Pack! It's a non-stop party with a piñata, surprises and more! The box set also includes a Dora and Diego cake recipe card (while supplies last)." (Dora the Explorer press pack)
So if you LOVE Dora as much as my daughter does then you will LOVE this great box set that is perfect for any birthday or just any day!
This awesome dvd set is available for purchase starting July 12th at www.amazon.com or visit shop.nick.com/Doras-Big-Party-Pack/A/B004YVO624.htm to find out where you can purchase it!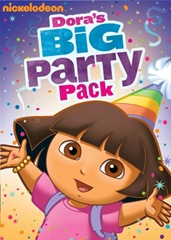 Dora the Explorer: Dora's Big Party Pack DVD set gets Bragging Rights!