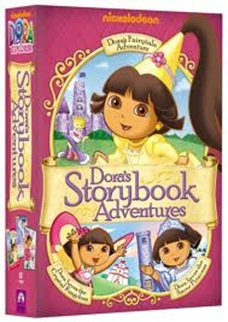 Dora is becoming quite the popular character in our house. My girls really enjoy watching Dora The Explorer and my son is even getting in on the excitement. They were happy to receive Dora The Explorer: Dora's Storybook Adventures DVD and were even more excited when they found out it was a 3 DVD-box set!!
"Preschoolers join Dora on magical journeys with unicorns, dragons and princesses in the new three-DVD box set, Dora the Explorer: Dora's Storybook Adventures. The special box set includes Fairytale Adventure, Dora Saves the Snow Princess and Dora Saves the Crystal Kingdom."
Dora the Explorer: Dora's Storybook Adventures Episode Synopses:
Dora the Explorer: Fairytale Adventure
(Double Length Episode)
Dora and Boots are exploring the forest when they discover the gate to Fairy-Tale Land.  Soon they find that there's a mean witch who lives in Fairy-Tale Land and when Boots eats a banana from the witch's fruit tree, Boots turns into Sleeping Boots!  In order to break the witch's spell, Sleeping Boots must get a hug from Princess Dora.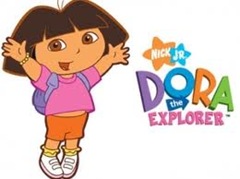 What Happens Next?
Abuela gives Dora a special star pocket to catch explorer stars, and Dora sets out to become a star catcher!  With Boots' help, she soon catches her first explorer star but Swiper swipes the star pocket and ties it to a balloon that floats all the way up to cloud castle.
The Magic Stick
Dora and Boots find a magic stick and according to the wise old tree frog, it's up to them to go to the top of the highest hill to make the stick do its magic trick.
Dora the Explorer: Dora Saves the Snow Princess
Dora Saves The Snow Princess (Double Length Episode)
Dora, Boots and the Snowflake Fairy are off to save La Princessa Sabrina and her snowy forest from a mean witch who has locked her in a tower and taken away her magic snow crystal.
Dora's Jack-in-the-Box
Dora's twin brother and sister have been sick and Dora wants to buy them a present to cheer them up.  She finds a Jack-in-the-Box but it's been so long since Jack's been played, the little clown doesn't know he's supposed to pop out when the song says, "Pop goes the weasel!"
Bark, Bark To Play Park!
Everyone is getting ready for the big Twins Day Party at Play Park.  Dora even has a surprise for her puppy, Perrito.  He has a twin too – a long-lost puppy brother he hasn't seen since they were babies.
Dora the Explorer: Dora Saves the Crystal Kingdom!
Dora Saves the Crystal Kingdom (Double Length Episode)
A greedy king has stolen the crystals that give Allie's kingdom color and Dora and Boots must help Allie locate the crystals and turn the pale gray kingdom back into a colorful wonderland before it's too late.  Along the way, the trio gain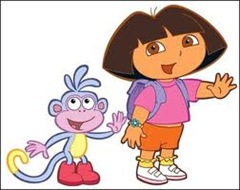 help from a British knight, a giant caterpillar and a magician who give Dora three gifts – a shield, butterfly wings and a magic wand – to aid in her journey.  Using these presents, Dora attempts to defeat the greedy king and restore color to the kingdom.
First Day of School
Boots and Tico are really excited because it's their first day of school ever.  In their new school, they'll learn in English and Spanish!  Dora leads the way, teaching Boots Spanish and Tico English as they head out to school.
Boots' Banana Wish
Dora and Boots are at an amusement park where they have a special wishing machine. Boots makes a wish for bananas and suddenly a bunch fall down on Boots.  He's so happy but soon realizes that the bananas don't stop coming.
This box-set is full of all my kids' favorite characters from Dora the Explorer including Boots, Tico, & Swiper. Of course my girls love the 3 episodes that involve princesses and castles which also happen to be Double length episodes! That isn't to say that they didn't enjoy the other episodes though….because they love watching them all! I love Dora DVD's because they capture my sons attention. He will sit with his sisters and watch an episode or two, and that gives me a break from having to entertain him myself
.

Things that are BRAG WORTHY:
Fun for both girls and boys
Has princess characters for your 'princess-loving' girls
Uses English & Spanish for learning fun
Storylines that encourage children to get involved.
Dora The Explorer: Dora's Storybook Adventures
JOIN DORA ON HER MOST MAGICAL EXPLORATIONS