Leah absolutely loves going to the movie theater. She has been wanting to see The Croods Movie since we first saw the previews several months ago. I had high expectations for this movie and it far exceeded them! I couldn't wait to take her and experience this funny movie. I was pleasantly surprised at how much I really liked it!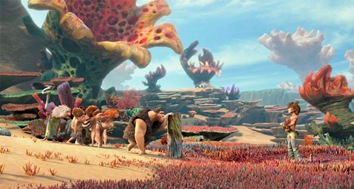 "The Croods tells the story of the world's first family road trip. When their cave is destroyed, the Crood family must embark on a comedy adventure into strange and spectacular territory in search of a new home. As if patriarch Grug (Cage) didn't already have enough to handle, it goes from bad to worse when they encounter an imaginative nomad named Guy (Reynolds.) With Guy's help the Croods conquer their fear of the outside world and discover that they have exactly what it takes to survive – each other."-(c) Paramount"
The CROODS reminds me of a funny, dysfunctional family taking their first road trip together, who in the end truly love and appreciate one another. The funniest characters in my mind are Gran who is old as dirt and has a million lives according to Grugg and Sandy the little sister who is as wild as a bobcat and
not afraid to show it. Each character really shines in their own way. Eep wants to become her own person and explore the world outside of their cave. She meets Guy and is so enthralled by him and his pet named Belt (the sloth), who loves to say DA DA DAAAAAAA!
There were so many funny parts that you just have to go see it to believe me! The movie is rated PG and opens TODAY, March 22! You can also follow The Croods on Facebook!
Please visit www.thecroodsmovie.com to find out more!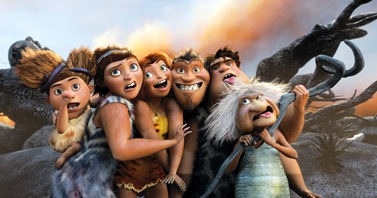 Dreamworks The Croods Movie gets Bragging Rights!