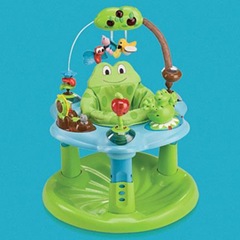 My baby isn't a baby anymore
. He is growing up, and so are his toy preferences. He is not content being confined and is always on the go. But I love this age. It's an age where I get to watch him discover & learn about all the things around him.
To be honest with you, my son hasn't sat in the Evenflo Jump and Learn ExerSaucer for a couple of weeks. Like I said, he is discovering his independence at a very rapid rate! However, he continues to play with the fun toys that are on it! His favorite ones being the little spinning bugs on the 'arch'. He thinks he is so smart when he spins those things and of course we indulge him (because he really is so smart
). We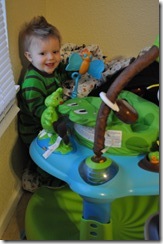 keep the ExerSaucer in the corner and he likes to wedge himself between that & the wall….he thinks it's his little hideout. He will spend quite a while just playing there.
I think we are at the point that the ExerSaucer could be put away, but we would definitely need to keep the toys out. After all, they light up, make noise, and are great for my little guy who loves to play with fun & exciting things!
Did you know…
Babies can start imitating sounds at 7 months.
At 10 to 12 months, your baby starts learning through trial and error.  
At 4 to 6 months, your baby is very interested in small details.

Your baby at 10 to 12 months is learning how to search for hidden objects.

Savvy Parents

use the ExerSaucer's play features to help teach this skill.

From 7 to 9 months, your baby is learning to master a pincer grip. Savvy Parents can help them develop this skill with the ExerSaucer.
Babies from 4 to 6 months begin to play with objects. Savvy Parents know the ExerSaucer gives babies plenty of stimulating toys to explore.
At 7 to 9 months, babies explore the physical properties of objects.
"The Evenflo ExerSaucers are a great way to give your baby a head start on these developmental milestones. Our new ExerSaucers were inspired and designed with the Child Development Institute, whose mission is to provide parents with comprehensive information that will enable them to support their child during learning and development. Shop for an ExerSaucer for your child today."

It has been so great having this fun toy around! My son has spent a lot of time playing in, on, & around the ExerSaucer and it has certainly proved to be a worthwhile baby accessory! I love how my son discovered new things about it with every stage of development—-like when he figured out he could spin the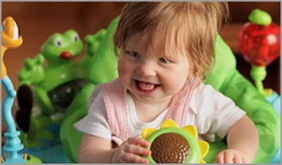 seat, or when he swatted at the firefly on the arch it would light up, and one of his favorites: when he lifted the sunflower mirror up and down it would giggle.
I will definitely be using the Evenflo Jump and Learn ExerSaucer with any other babies that come along. It is one toy I wouldn't want to be without!!!
*I received an ExerSaucer from Evenflo for the purpose of this review and as a member of the Evenflo Blogger Ambassador program I am being compensated for this post.