I'm back with another update on the Evenflo Jump & Learn Exersaucer!!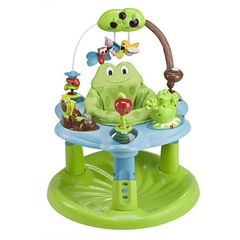 Now that my baby is on the go, he isn't too happy to be stuck ANYWHERE for too long. I can still put him in the Exersaucer for a few minutes,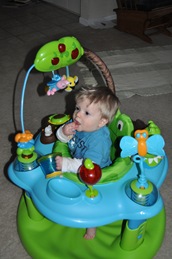 but he is eager to get out and explore! However, that hasn't stopped him from enjoying the fun toys that are on the Jump and Learn Exersaucer!
The Exersaucer offers a wide range of developmental activities for my son. I've already mentioned the dragonfly that my son loves to suck on. Now that he is teething, he chews on the textured wings. The little sunflower toy is one of his favorites! It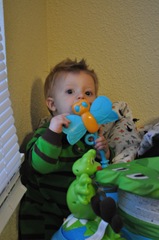 has a mirror that he can see himself in, and 2 little Peek-a-boo toys to help develop searching for hidden objects. My son spends a lot of time 'bopping' those toys up and down
Some of the toys have intense visual patterns, while others are subdued to help develop my baby's attraction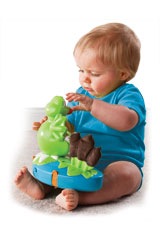 to visual patterns. And of course, now that he is starting to imitate sounds, he loves both the toys that make noise.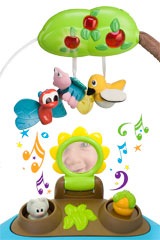 He will even dance along with the music!
I really love that the toys can easily be removed for fun & learning anywhere!
"The Jump & Learn was designed in partnership with the Child Development Institute™ to help babies learn through play"
The Evenflo Jump and Learn Exersaucer encourages babies to discover all of their senses in a fun & exciting way!
**I received an Exersaucer from Evenflo for the purpose of this review and as a member of the Evenflo Blogger Ambassador program I am being compensated for this post.