"If you love to cook, bake, or just have fun in the kitchen, then you must see the selection of gourmet cookware and kitchen accessories at Frigidaire. We carry all of the best gourmet cookware and bakeware from top brands, plus, we also have some of the hottest kitchen gadgets out there. Whether it's the Zyliss Peeler for quick meal preparation or Kaiser Bakeware for perfect bundt cakes, the kitchen accessories, gourmet cookware, and kitchen gadgets from Frigidaire are must-haves in any kitchen."
You didn't know you could buy cooking tools at Frigidaire.com did you?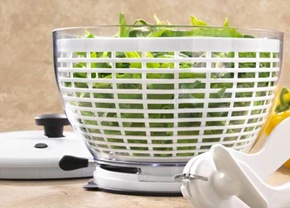 Anything that makes my time in the kitchen a little simpler, gets an A+ in my book. I have wanted a salad spinner for a couple of years now. I've always hated rinsing my lettuce and then having to pat it dry with paper towels. It is so frustrating. This Salad Spinner is going to be my good friend!!! It is large, has a suction feature, & you can even use the clear part as a serving bowl! It's quick & it's easy….no kitchen should be without one of these!
Spin away leafy sogginess with a few

simple cranks

of the handle
A simple slide of the suction level engages the

suction power to prevent movement

Removable

3 quart clear plastic

bowl

Removable

plastic

spinner

basket
Removable spinner lid with turn crank and

push-button brake

Dishwasher safe
How about a baking stone? I have heard WONDERFUL things about a pizza baked on a stone. But it isn't just for pizza! You can cook just about anything on a bakestone with great results. I love that it has a carrier with handles to make it easier to remove from the oven! I am looking forward to baking more on my new bakestone!
"We're bringing the old world tradition of stone baking right into your
kitchen. The Frigidaire bakestone provides even heat distribution allowing you and your family to enjoy golden bread, perfect pizza, and delectable cookies. Our handy serving utensil makes moving hot items from the bakestone to the serving platter a snap! And, as an added feature, our bakestone also comes with its own two-handled carrier which simplifies lifting and carrying, as well as ensures safe handling from the oven to the counter to the table."
Head on over to Frigidaire.com to see more Frigidaire products!
Frigidaire gets Bragging Rights!
*I received a salad spinner & a bakingstone from Frigidaire for the purpose of this review