I love being a Mom, I love bragging about my child and how cute, smart or the funny things that she did that day. What perfect way to show people how adorable your child, grandchild, niece, nephew, etc is than with a customized Brag Book!
These cute Brag Books are made from your babies clothing. I had a hard time picking out an outfit to send because of the new baby girl coming. BUT I picked an outfit Leah has worn a couple times and she loved it! I also picked this cute outfit because it is Leah's favorite color Pink. It was super easy to work with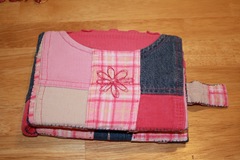 From Here 2 Daydreams. All I had to do was send in the outfit and they did the rest!
"I Offer an Adorable and Practical Way to Keep Memories of Your Baby with You All the Time. Do you feel sad that these favored little outfits, we mothers find so hard to part with, are used for such a short period of time?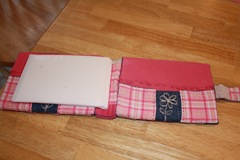 With my custom-made Brag Book/Wallet you can keep your favorite baby outfit with you all the time, because I make this Brag Book out of your baby's clothes – That very outfit that you loved so much and never wanted to part with. This Brag Book/Wallet is small enough to fit right in your purse, and you get the added benefit of keeping your baby and family photos with you as well. You'll probably even keep a photo of your baby wearing the same outfit you choose to have your Brag Book/Wallet made from.
It's a wonderful way to keep your baby close you, even as your child grows up" (From Here 2 Daydreams website)
I love that this custom photo book can be made wallet sized too! This wallet
sized book can be carried with you everywhere and it's so handy to Brag about your cute loved ones!
"Throughout the years, she stumbles across the little clothes that once adorned her precious little baby. So much time has passed since she tucked it away. As soon as it's pulled out to be examined, a nostalgic euphoria seems to spill all around her like a thick fog, tugging at her heartstrings. Memories of when her child was so precious and new to her begin to resurface – and one thought occupies her mind, "How much the little outfit reminds her of how tiny her baby was not so long ago" If only there were a way to keep the memory of such a special time in a mother's life close to her every single day.
How I feel about this item:

This is so much more than just a Photo Album or Brag Book… Every time a parent sees their custom made brag book, they'll be reminded of their child and how tiny he/she was once. It's so important to me that every single person
who has a custom made brag book made from their precious baby clothes, feels a special connection to their child when he/she holds it in their hands. I ask everyone what is most special about this outfit – what do you love the most about it and why. I use this information to help me create a lasting family heirloom that can be treasured for years to come; add a some adorable baby photos and you have a very special and unique memory – one that only a person who truly loves this child could appreciate." (from the owner of From Here 2 Daydreams"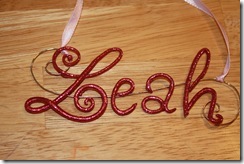 I also love the Name Tags made of glitter and polymer clay and we also received one of those! These are
perfect for book marks, to hang on the mirror or door, to add as a gift tag etc.
Things that are Bragworthy:
Perfect for Baby Showers

Great way to make baby clothes into keepsakes!

Name tags are super cute for Presents and for Kids rooms

Super Easy, just send in baby outfit and the rest will be taken care of!

Unique Gift
These cute Custom Brag Books can be purchased at www.etsy.com/shop/Fromhere2Daydreams and right now you can get a Discount: Free Shipping to Customers who mention this review, tell her The Bragging Mommy sent you!
The From Here 2 Daydreams Custom Brag Book gets Bragging Rights!
5 Lucky Bragging Mommy Readers will win in this giveaway! 2 winners will receive a Wallet sized custom Brag Book and 3 winners will receive a Baby Name! Made From Polymer Clay, Glitter and Clay
How to enter: Leave comments below with your qualifying entries. Leave a Separate comment for each entry telling us which you qualify for.
MANDATORY 1st entry– Visit Here 2 Daydreams and let us know another item she sells that you would love to have
1st Mandatory Entry must be completed before you can qualify for additional entries. All extra entries who don't do the mandatory entry will be deleted.
3 entries– "Like" Here 2 Daydreams on facebook
3 entries- Follow Here 2 Daydreams on Twitter
2 entries- Follow Here 2 Daydreams Blog
2 entries– Grab The Bragging Mommy button and put it on your blog. Leave a link.
1 entry for each– Follow The Bragging Mommy via Google Friend Connect, Facebook, Twitter, subscribe to emails, subscribe in reader.
10 entries– Blog about this giveaway linking to this post. Leave a link.
1 entry per day– Tweet this giveaway, be sure to include a link to this post & @braggingmommy in your tweet.
GIVEAWAY IS NOW CLOSED
You can enter this giveaway until September 30 @10:00 am MST. The winner will then be chosen at random, verified and contacted via email. The winner will have 48 hours to email us back and claim the prize, if prize is not claimed within 48 hours a new winner will be chosen. By entering this giveaway you agree to The Bragging Mommy Full Disclosure. You must be over the age of 18 and live in the Contiguous US to enter.