DIEGO AND FRIENDS SAVE ANIMALS AROUND THE WORLD
IN 6-EPISODE COMPILATION DVD
"Diego travels the globe rescuing animals in Go, Diego, Go!: Diego Saves The World, a six episode compilation DVD.   Throughout his adventures, he receives help from his sister Alicia, animal pals, Rescue Pack Click the Camera (voiced by Rosie Perez) and the viewers at home."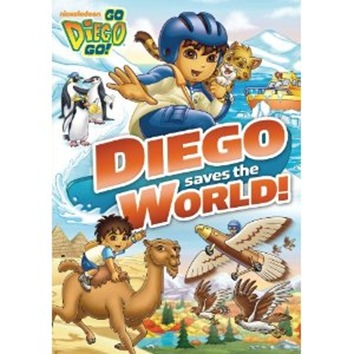 Available on DVD Today!
Go, Diego, Go!: Diego Saves The World Episode Synopses:
Diego the Hero
Alicia's boat gets stuck in the ice as she takes some sick and hurt penguins to the Snowy Rescue Center.  Diego and Baby Jaguar set out to help Alicia, but they'll need the help of their friends since the Rainforest is far away from the Snowy Coast.
Cotton-top Tamarin Cave Rescue
Diego has a surprise for the lonely cotton-top tamarin singing in a cave.  Alicia and Baby Jaguar have been planting lots of trees for the Tamarins so they can move back to the forest.  When the Bobos accidentally block the cave's entrance, Diego sets out to find another way out of the cave so he can reunite all the tamarins.
Bengal Tiger Makes a Wish
Diego is in India helping animals after a big rainstorm when he meets Benji the Bengal Tiger.  His mother had told him that if he ever got lost, she would wait for him at the Wishing Tree, but he doesn't know how to get there!  Diego sets out to the Wishing Tree and along the way helps many animal friends who have wishes.
Diego Saves Baby Humpback Whale
A baby humpback whale is beached on a rocky island and can't get back into the ocean!  Diego sets off to save the humpback whale, running through a rainforest obstacle course and swimming with Tuga the Leatherback Sea Turtle past jellyfish and sharks. When Diego reaches the baby humpback whale, he leads the other humpback whales in making big waves to lift the beached humpback whale into the ocean and back to her mommy.
Jorge the Little Hawk Learns to Migrate
It's getting really cold and Jorge the Hawk is ready to migrate to the Warm Forest.  Diego must help build a bird place to help Jorge fly home.  On this sky-high adventure, Diego and Jorge catch a ride on the warm windy wind, fly through the foggy fog, avoid a lightning storm, and finally make it all the way to the Warm Forest.
Egyptian Camel Adventure
Diego visits his friend Medina in Egypt to learn all about camels when they realize the river in Medina's town is drying out.  They must find a way to fill it up again for the camels and other desert animals to have enough water to drink.  They learn of the legend of the golden cloud, which can bring water back to the river, and head out to find it.
Little Bug loves this Go, Diego, Go Diego Saves the World DVD, the animal theme is a huge hit.  He is really into remembering each thing he learns and enjoys learning the names of different animals and sea creatures.  Definitely a fun addition to our DVD collection!
Available on DVD online and in stores Today!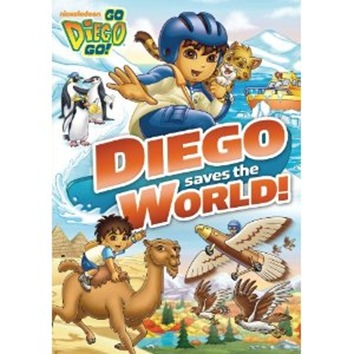 Diego Saves the World gets Bragging Rights!
*I received Deigo Saves the World on DVD for my review.