In Supernatural Dean suprises Sam early in the season with a sudden paternal side that emerges when the two brothers investigate a case of missing babies.
I knew my husband was going to be a good dad, since he was such a great husband.  But I had no idea how good of a dad he would be…from the minute Bug was born he took such great care  of him, changing his diapers and not wanting to put him down.  In fact I didn't even change a diaper at all until we got home from the hospital because my husband changed them all 🙂 Really I shouldn't have been surprised about this since his personality is such a sweet and kind one.  I am so lucky to have a hubby that is such a fantastic dad.
What about you?  Have you had any friends or family who have had traits that surprised you?
Pre-Order your copy of Supernatural: The Complete Sixth Season on Blu-ray & DVD http://bit.ly/o4wWQJ!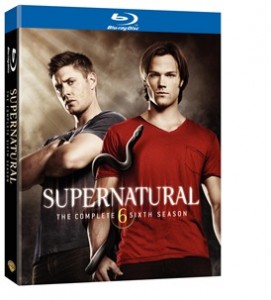 I have been hired by Warner Bros. WBWord division to promote Supernatural Season 6 on DVD.