This is a sponsored guest post.
As in all cuisines, bread is an integral part of Indian cuisine. Naan is a leavened oven baked flat bread, usually made in northern regions of India, although it is known to be served in most Indian restaurants in the country and all over the world. Naan compliments a main dish, but you can also eat it plain, indulgently patted over with ghee (clarified butter) or butter.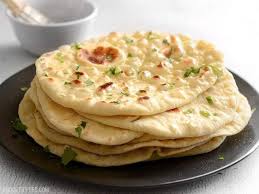 In the basic vegan naan recipe you can also add different flavours like garlic, coriander leaves, nigella (onion seeds), or whatever you can think of. Once you get the basic hang of making a basic naan you can try out all the above mentioned possibilities.

There are numerous ways to enjoy them like naan wraps/rolls, naan pizza and naan wich, these have become quite popular in the contemporary fusion cuisine.

Naan is traditionally cooked in a tandoor
or a clay oven at a high temperature, but it can also be made in a conventional oven or on a stovetop and is just as beautiful and delicious.

The texture of the naan should be light flaky crip on the outside, almost brittle that the crust will break with the tiny pressure of the finger, but the bread itself will be soft, fluffy with nice flaky air pockets inside. It is delicate and slightly chewy at the sametime. It should not get brown, tough and stiff like the edges of a pizza crust.

With the texture, the cooking time for a naan is also important; it has to be done well, but overcooking it in a skillet or oven will stiffen it making it crusty, which is not desirable.

Homemade Vegan Naan

Prep time : 30 minutes
Cooking time: 5 minutes
Resting time : 60 minutes
Total time : 95 minutes

Ingredients: (makes 8 naans)

4 cups of all-purpose flour
1.5 tablespoon salt
1 teaspoon sugar
2.5 teaspoon active dry yeast
½ cup warm water
5 tablespoon oil, butter or ghee
⅛ teaspoon baking soda
1 cup plain unflavored yogurt
½ cup water if needed
Ghee or melted butter to brush on the naan
Spices (like nigella, cumin, sesame)
Preparation

Method : 1 ( on skillet)

1. In large bowl, dissolve yeast and sugar in warm water and let it stand until frothy (10 minutes). This indicates the yeast is active. Set aside.

2. Sift flour, salt and baking soda. Add yogurt, oil / ghee and flour to the activated yeast.

3. Mix all the ingredients together and knead a soft dough using a stand mixer or on a flat surface like large cutting board or kitchen counter using your fingers, till it is smooth and stretchy, for about 5 minutes ( The dough should be soft, but not sticky). Add some water if required for kneading the dough.

4. Place the dough in a well oiled bowl and cover it with a damp cloth to rise, until doubled in size for an hour.

5. Once the dough has risen to double its size, tip it out of the bowl, and knock it back to remove the air.

6. Knead it again for another five minutes, then divide into 8 equal ball sized pieces.

7. On the floured surface, roll each ball into a thick circle or an oval shape. Do Not roll out too thin or the naan breads will dry and get crispy.

8. Lightly brush one side of the naan with water, and place the moistened side down – on the hot skillet.

9. Brush the top side with additional oil or clarified butter

10. Flip it and cook it for 2 to 3 minutes on the other side.

11. Repeat the process with the remaining dough balls.

12. Serve immediately.

Method : 2 ( in oven)
1. Preheat the oven to 450 degrees F.

2. Follow steps 1 to 7 same as done for the skillet method.

3. Place the rolled out dough circles on a greased cookie sheet.

4. Cook in the oven for 8 minutes or until golden brown or puffed up.

5. Take it out from the oven and brush it with oil or clarified butter.

6. Serve immediately.