This is a sponsored guest post.
Moving across the country is definitely an exciting thing, but also comes with a bulk of responsibilities which is stressful. To make it happen easily, you are going to need some fantastic long-distance moving tips. You can hire Cross Country Movers that will help you to move easily and in a more organized way. Here, we present a comprehensive guide which will make you prepare to move across the country. So, let's get started: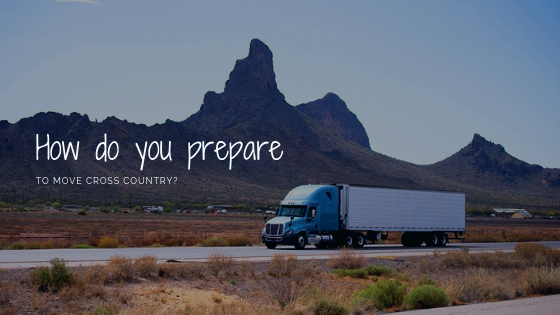 1. Schedule your packing task:
Prepare a moving calendar and schedule the tasks before moving in accordance with the time you have in your hand before moving. Make a checklist of all your belongings and also prepare a list of how many moving boxes of different sizes you will need to move all of them. Open google drive and create a 'moving file' to accumulate all the important quotes, receipts, and records related to your move. Always try to proceed with the routine plan fully to avoid any mistake.

2. Pack only essentials and avoid extra loads:
Think and pack strategically only the essentials like medications, chargers, day-to-day toiletries and a couple of changes of clothes pack all of them in an open-first handbag and always try to use every ounce of space of your luggage in the most logical way. It will help you to ensure everything fits and that it will be protected along the journey. Find a way to get rid of any needless things like your unnecessary tools, kitchenware, junk and old extra clothes.

3. Hire a licensed cross-country mover:
Research a bit on the internet, estimate and compare prices of moving company. Then hire a reputable, trustworthy, affordable moving company.

Basically, moving needs a lot of heavy lifting, wrapping, packing, folding, boxing, taping and walking which can be avoided by hiring movers. Moving companies always provide a moving team, a truck and a driver all you have to do it pack up the truck yourself and they'll drive it across the country.

4. Try to shorten your moving expenses:
Instead of buying moving boxes every time, you can search for big cardboard at any nearby grocery shop or any other local shop. Then organize your pieces of stuff in these boxes and label them, it will help to remember where you kept the things you need.

Stop increasing your moving expenses buying things like bubble wrap, moving blankets, and stretch wrap for easy-breakable things. Because you can use household items like socks, blankets, clothes, towels, linens provide padding and protection to the fragile things like glasses, vases, stemware, picture frames, platters mirrors and other breakables. Pack electronics, books, or shoes safely in suitcases and if you are carrying any expensive thing or jewellery then safely place them in a bunch of clothes inside your suitcase.

5. Don't forget to pack your important document:
Always remember to take proof of your identity and nationalism whenever or wherever you are travelling. It often happens with almost all of us that we are unable to remember where we kept our license or credit card when we need those most.

In order to avoid such problems at first, gather your important stuff, and keep your private files, credit cards, ATM cards, passport in an easily accessible and also in an extremely safe place. Don't forget to keep enough amount of cash in hand too.

Conclusion:

By following these steps enlisted above, you'll have an easy painless experience with your cross-country move. It is always stressful to make a big move, but with a perfect plan and professional movers on your side, it will surely seem a lot amazing and interesting to you.