This post is brought to you by Green Apple solutions.

When we start looking at the options to put in a library or classroom with regard to furniture, we see a number of different things that can serve the purpose. Some organizations put a large table and chairs are placed around and some use study carrel. A study carrel is a small desk or work station that is dedicated to one person and is separated by separator. This is meant to increase the privacy and efficiency of the study or work time. These study or work stations are separated with small separation to give privacy. These separations can either be full or half depending on the design used. Normally, in libraries we see a fully partitioned carrel to give maximum privacy in small space.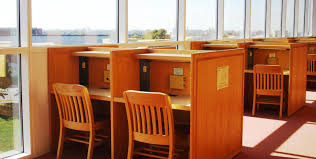 Different types of study carrels:

In academic places, we see a number of carrels and usually this is in the form of a large rectangular table with shelves above them which can be used to place books or files. Chair is usually attached to the table and is irremovable. This is done to reduce the chaos that could possibly create problem if chairs are scattered. These study carrels are now equipped with Ethernet cables and power supply. This is intended to be used by the persons using laptops. In these days, no work or study is complete without the use of technology and that is why study carrels are now equipped with the requirements of technology.

Study carrels are normally sold in large quantities and are available for school institutions and libraries. Some offices also install these desks as workstations especially when they have to place more staff in small place. These serve as good work stations as well. There are various forms carrels can take. Some are open and some are closed. Open carrels are usually placed in libraries. In libraries, we often see a room which is a little isolated and designated to senior officers or faculty of the university. In that room, carrels are also placed for them.

Other places where study carrel is used are the art and music classes where a number of students are there to learn at the same place. Students are more convenient to learn when they have their own specified space and same goes to a working environment as well. When we have a neat and clean workstation which has privacy as well, we would be in a better position to work.

How to select the best study carrel:

Study carrel is not a small thing and therefore is not available for a single consumer, it is usually available in larger quantities and it is available for larger organizations and universities. If you are going to buy on behalf of your school, you would be able to get large discounts because of the bulk purchase. There are several qualities that are available in the market, you should always go for the finest product equipped with latest technology because it is something that would be installed for a number of coming years!