This is a sponsored guest post.
Camping is most people's way of spending a great summer but if you are pregnant you may be of a different opinion. However, you may be required to go along with loved ones' plans and spend time with nature away from the comforts of your hearth and home. If you are someone who loves spending time in the great outdoors pregnant or not it may be an adventure to look forward to. There is no reason to get stuck at home watching Netflix when you can be outdoors with your loved ones snuggled underneath the stars. Enjoy yourself but don't forget to take care of your health and your baby. Pregnant women may have to take along extra items during camping for their safety and comfort. Here are some things to bring and some tips to do during your camping trip.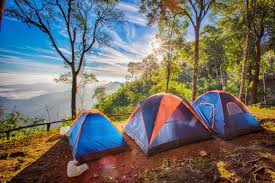 Stay hydrated
It is important to stay hydrated throughout your camping trip. You will be a little more active and on higher altitude o you need that extra water. If you will be walking around a lot you will experience some swelling and water can counteract swelling. Most camping sites have water but it would be wise to bring some of your own water because water in the camp may not come from the cleanest source. You don't want yourself or your baby getting sick. Bring gallons of water which are not that expensive in the first place and have peace of mind.
Stay comfortable
Comfort is king when you are out camping and you should bring along items that bring you comfort. If you will be walking around a lot you will feel the need to take a break and sit and hard tree stumps are not excellent candidates for a pregnant woman's chair. Instead, buy collapsible canvas chairs that are lightweight and easy to carry. Alternatively, you can bring along a tarp and fold it as a hammock which can be hung on a tree. Tarps are foldable and you will only need some rope to create a comfortable bed or a chair out in the wilderness.
Take medication
Pregnancy may require you to take vitamins or medication to have a healthy term. Don't forget to bring your medication and take it at the scheduled time. Also, bring along a first aid kit that may prove to be necessary such as scissors and bandages. The outdoors has a lot of bugs such as mosquitoes which can cause you discomfort and irritation. Bring along an effective bug spray to keep these pests from biting you. Since you are pregnant you may not want something that contains DEET instead get an organic citronella spray. You can also put on some mosquito repellent lotion as an added protection. And you can use disinfecting wipes for a proper hygiene. The point is you have to be ready for anything that can be harmful to your health.
Eat healthy
One of the entertainments in camping is the food so make sure you will have your fill of good food. The food you will be eating doesn't have to be gourmet but it must be filling, well-balanced and healthy. If you are planning a day of camping bring food that is easy to prepare and store. Roasted and grilled food hold up well and are easy to prepare and bring along. It is also very filling. Since you are pregnant you should have vegetables and roasting a vegetable kebab over the campfire is a good way to get some healthy vitamins and minerals in your meal.
Shade
Depending on the season and the weather the days can be extremely hot and you will need lots of shade. Lack of shade will cause you to get exhausted more easily and sweat. The heat can be troublesome and you might not enjoy your trip. Ask or research beforehand if your camping site has lots of trees and shade to avoid unfortunate surprises. Request for a campsite with a lot of trees so you will be cool even if it's in the middle of a very hot afternoon. If you camp a lot it would be good to invest in a canopy so you can be sure you will have a shady spot to rest in because tents are not so good to take shelter in, in hot weather.
Air Mattress
The kind of bedding you will be using, like a sleeping pad for hammock, is a deal breaker if you will be enjoying your camp stay. If you are pregnant you will not want to sleep on the hard ground since it will be very uncomfortable.  Bring a good inflatable air mattress and make sure it works and has no holes in it. You can test the mattress before your trip by lying on it and making sure it doesn't deflate. You can alternatively fashion a cot with a mattress pad. If you are pregnant consider anything but sleeping on the hard solid ground.

Megan Jones is a working mum and a camping lover who works with aerindustries.com.Having huge experience in traveling and exploring nature, Megan has gained some valuable knowledge, which she is now actively promoting.