This post is brought to you by Green Apple Solutions.
A glass of fruit can be very refreshing any day, any time. Apart from being delicious, these fruits are packed with nutrients that keep us healthy by improving metabolism, body function and also fighting against many diseases. For some of us, our main source of juice would be from the juice boxes at stores. While it is convenient, as all you have to do is just open the cap and enjoy it, it is not always the best. Some of them contain preservatives that kill the nutrients in the fruits. They are also expensive and do not taste as good as real fruits. The best way to enjoy fruit juice is to do it yourself, with a juicer. Here are the reviews given by Reviewbrewery are helpful in choosing the best juicer.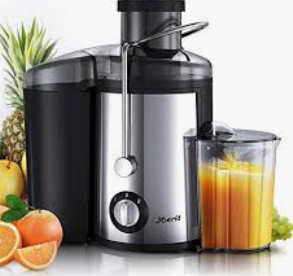 A juicer is like a blender, but is high powered and programmed to make juice in a very fast way so that you get your juice in seconds. Also, it makes the juice so smooth for easy drinking. Juicers are also strong enough to crush nuts, seeds, and ice, if necessary. In this article, we will be reviewing and compare orange juicers, some find the best juicer in the market, for 2020.
1. Mueller Austria Ultra Juicer
This juicer from Mueller Austria features a 1,100-watt motor that allows you to create a 16 0z cup of juice in just 8 seconds. It packs so much power in its small frame, making it convenient for any space in your kitchen, or anywhere else you would like to juice. It's stainless steel blades that can slice through soft and hard fruits. It has speed set up going from 12000 RPM to 18000RPM. It has a filter system that ensures all the juice is extracted while being able to clean. It also has a top that can stay shut while it works.
Best features
Filter system
Powerful motor
Stainless steel blades
2. Hamilton Beach Juice Machine
This juicer from Hamilton is just what you need to enjoy your fruits and vegetables. It has a 3-inch chute that allows you to put whole fruits, like apples in it. This means you do not have to cut your fruits so much that the juice wastes, allowing you to enjoy more. The parts, which are easy to dismantle, are also dishwasher safe and easy to clean by hand. Its 800W motor can make a smooth juice out of most fruits in a few seconds. Weighing less than 10 pounds, you can carry this about.
Best feature
3-inch chute
Dishwasher safe
Lightweight
3. Breville JE98XL Juice Fountain Plus
This is a juicer that delivers much while keeping your safety in mind. It has an interlocking safety arm that prevents it from operating when the lock is not in place. It also has overload protection that preserves it from an unstable current. It has a durable build, made from heavy grade polymer, that keeps it safe at all times. It's 850W motor and the stainless steel blades create juices from fruits in few seconds. It also has a mesh filter system that allows it to extract more juice with ease.
Best features
Filter mesh
Durable build
Interlocking Safety Arms
4. Cuisinart CCJ-500 Pulp Control Citrus Juicer
This is a juicer designed for citrus species, like oranges, tangerines, mandarin, lemons, and so on. This is because it has a setting that allows it to extract more juice from pulp than other regular juicers. Easily adjust the juicer in three modes, depending on the level of pressure you need. It also features a snap-up spout that makes it easy to serve the juice. The parts are dishwasher safe and also easy to clean manually.
Best features
Pulp control settings
Easy to clean
Snap-up spout
5. AZEUS Ultra High-Speed Juicer
Everything about this juicer yells power and efficiency. From its 163 titanium blades, which can slice through any fruit and vegetable, to its micro-mesh filter which extracts as much juice as possible for you. It has two settings, depending on the type of fruit you want to juice. It has a unique non-slip suction cup that keeps it in place on your counter during juicing so that it does not move or fall. Clean it by putting it in the dishwasher or use the special brush that comes in the pack to work the filter.
Best features
Titanium blades
Non-slip feature
Two power modes.
6. KOIOS Centrifugal Juicer Machines
Another juicer that packs much is the JE-70 machine from KOIOS. Equipped with a 1200W motor and a maximum of 18000 RPM, you can be sure of enjoying the best juice from any fruit with this machine. Easily switch between two modes, from low speed to high. The low speed is suitable for softer fruits, like berries, while the high-speed option is for harder fruits like apples. Its 3-inch chute allows you to place fruits in it whole or with less cutting.
Beet features
1200W motor
Wide chute
Parts are easy to assemble and clean
7. AICOOK Juice Extractor
Although this juicer has a smaller motor, at just 400W, it delivers much more than most juicers. With a 3-speed design and 18000RPM, juice any fruits and vegetables around you. In a few seconds, you can get a fresh cup of juice complete with foam. It works by forcing the fruit through the blades, down down a metal strainer, so that you get as much juice as possible. The juicer is also designed with non-slip feet that steady it, preventing it from vibrating and shaking your counter.
Best feature
Anti-sleep design
Easy to assemble
3-speed design
8. Breville BJE430SIL The Juice Fountain Cold
The revolutionary Cold Spin technology behind this juicer is based on the fact that what is most important in a juice is not just the liquid, but the nutrients and the best way to extract is by using less heat during juicing. With powerful blades and a chute that feeds directly into the shredding disk, you can be sure of getting nothing but nutritious juice from your fruits, no matter how hard or soft they are. Easy to clean with a large pulp collector. Parts can be cleaned in the dishwasher or by hand.
Best features
Large-capacity pulp collector
Cold Spin Technology
Strong and sharp blades
9. Pohl+Schmitt Deco-Line Citrus Juicer Machine Extractor
This compact juicer is all you need to enjoy your citrus at home. It has dual purpose cones for different sizes of fruit. The 34oz transparent container also features a filter that allows you to control how much pulp you want in your juice. It has non-slip feet and has parts that are easy to assemble and disassemble, allowing it to fit in your washing machine.
Best features
Non-slip feet
Filter to control pulp
Quiet motor
10. Breville 800JEXL Juice Fountain Elite 1000-Watt Juice Extractor
This heavy-duty juicer can help you get all the juice you need from every and any fruit. Its 1000W motor gives it all the power it needs with the titanium discs to cut through any fruit and give you fresh, nutritious juice in seconds.
Best features
Titanium discs
High powered motor
Strong build
Buying guide
Here are some of the things to look out for when buying a juicer
11. Motor rating
The motor of a juicer is usually rated in watts. The higher the watts, the more power the juicer supplies. The best juicers deliver between 800 to 1200W of power. Although some juicers with lesser ratings deliver efficient power too. But to be safe, it is best to stick with higher motors as they have the power to juice harder fruits.
12. Size
Depending on where you want to place the juicer, you would have to consider size when buying it. If your available space is limited, do well to look for something more compact.
13. Cleaning method
Some juicers are dishwasher safe, making it suitable for you to just dismantle it, place it in your dishwasher and let it wash. However, most are very easy to clean with hands, with some that come with a brush to make cleaning easier.