This is a sponsored guest post.
With 2020 finally behind us, people are looking for ways to bring a little bit of joy into their homes in 2021. A great place to find joy is in the garden! Full of vibrant flowers, sunshine and fresh air, spending time in your garden offers lots of physical and mental health benefits. That's why having an outdoor environment that you can use and love in 2021 is so important.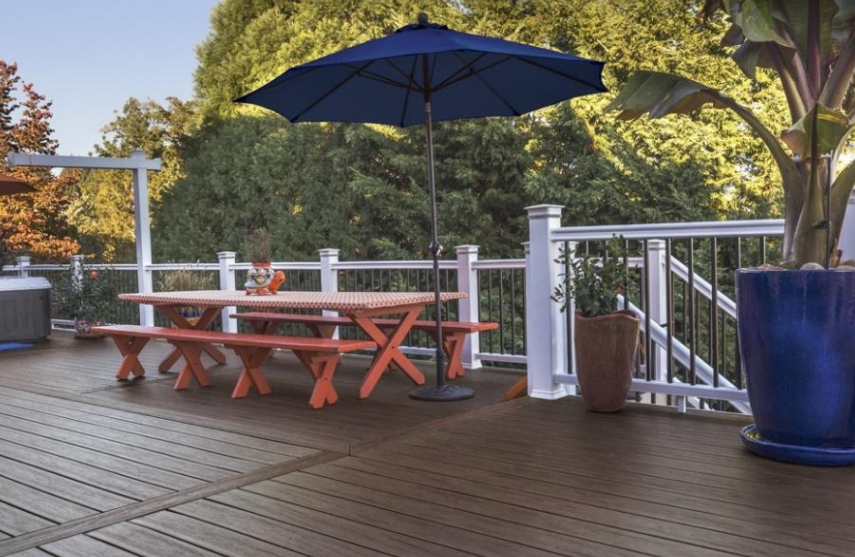 Replace your old deck
By spring/summer, we'll (hopefully) be able to meet up with our friends and families again, so now is a great time to think about installing a new deck. Decks are ideal for hosting parties and barbeques, but they can be a bit of a nightmare to maintain if you don't choose the right kind of decking material, like what Dino Decking has to offer.
Traditional wooden decks are notorious for bowing, cracking, and warping. This is because they take on surface water that either freezes or contributes to rot. To prevent this from happening you have two options. You could sand, stain, and seal your deck annually – a job that takes up a lot of time and can become quite costly, or you could choose a low maintenance alternative to wood like composite decking. Composite decking is a great addition to your garden for 2021 because it will provide an attractive, long-lasting space to host guests without demanding hours of maintenance work! Try MyPriceGuide to find the best composite decking for you.
Add a cosy covered space
If 2020 has taught us one thing, it's the importance of self-care. More often than not, people are absorbed by their busy lives of commuting, working and childcare and scarcely have time to relax. With lockdowns and remote working, people were given more time to really look after themselves. This is sure to remain an important theme throughout 2021, and your garden is a great place to do it.
Glass garden rooms have seen a huge surge in popularity over the last year because they provide a sheltered space to enjoy the garden. There are so many activities you can do in a glass garden room that will make you feel truly joyous. Whether you want to relax with a good book, do some morning yoga or enjoy a meal in a scenic dining area, a glass garden room is a great option.
Some suppliers even offer you the opportunity to customise your glass garden room with lights, heaters, and blinds so you can really make the most of it all year round.
Create an indoor/outdoor transition
Thinking about modernising your garden in 2021? Why not create a seamless indoor/outdoor transition between your home and garden? Installing the same tiles throughout your kitchen, living room and into the garden can turn three separate spaces into one, beautiful, coherent space!
When creating an indoor/outdoor transition, it's important that you choose tiles that you love, but they also need to withstand the challenges of indoor and outdoor environments. Heavy footfall, inclement weather and food spills are just a few things your tiles will face. Choosing a durable, long-lasting material is important if you want to give this contemporary design a try,
Porcelain pavers are ideal for an indoor/outdoor transition because they're vitrified at an incredibly high temperature during the manufacturing process. This creates tiles that are highly non-porous (so they can be easily wiped), durable (so they can cope with heavy footfall) and slip resistant (so there are fewer accidental falls).
These are just a few ways that you can make the most of your garden in 2021. We hope that this inspires you to think outside the box and create a space that works for you and your family.