This is a sponsored guest post.
A microwave is a favorite in many kitchens today since it is a handy kitchen appliance both for heating and defrosting food. And in fact, there are people who use a microwave to cook food. Unfortunately, there are still people who do not realize how a microwave can become versatile in the process of preparing food. When buying a new microwave, it is important to know that microwaves come in different types that have different features. This is to ensure that you can find a microwave that best suits your needs and at the same time, providing you with the maximum value for money. This article helps you choose the best small microwave. Here, we will cover the different factors that you should consider when buying the best small microwave. They include: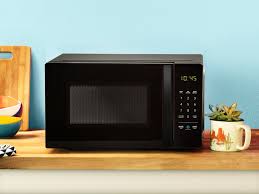 Limitless cooking potential
A small microwave with the right features and grill can cut down on the hassle of cooking significantly. A conventional microwave utilizes a heat cycle that is powered by fast moving fans that circulate air inside the microwave to heat food. This enables these microwaves to be very effective in both baking and roasting as they distribute heat evenly over the food. Also, the hot air circulation results in a moist and appealing end result. Another great feature of a microwave oven is that, it has a grill with a heating element that crisps and browns food – all this at a press of a button. With the grill, there is no more soggy food and it becomes easy to prepare dinner in the oven.

Size and capacity
Although small microwaves come in smaller packages, there are notable differences in the amount of food that they can handle. Therefore, you should not just look at the size of the entire microwave but also, the capacity that it can hold. Small microwaves that come with shelves will help you utilize space efficiently.

Added features
There are some small microwaves that can cook food to perfection at all times. This is because, the microwaves comes with programmable menu options that allow food to cook with the right amount of heat and moisture. The programs control both the heating percentage as well as the cooking time. Defrost settings are also important for they can help thaw food without drying it out.

Wattage
The best microwaves in the market should produce a minimum 800 watts of power. This is to ensure that food is cooked evenly and thoroughly. However, most microwaves have a power rating of between 600 and 800 watts. Therefore, you should check to ensure that your unit has adequate power.

Check out owner reviews
Reviews are one of the most reliable ways of telling how efficient a microwave oven is. This is especially when the reviews have been made by a real buyer with a first hand experience when using the device. Such a user will be in a position to tell you how the appliance performs. User reviews are important for they give you a clear picture on the performance of the small microwave that you are looking to buy.