This is a sponsored guest post.
Kids often come back from school the spend afternoons alone. After a school day stocked full of mind work, even though they've eaten lunch at school, they may be ravenously hungry. Having a nice home-cooked snack prepared, such as a delightful rotisserie chicken salad recipe you will find below among others, is a great idea to keep kids away from snacking on junk food and sugary sodas. If you need some ideas on what to cook for a quick after-school bite, here are some of our choicest picks.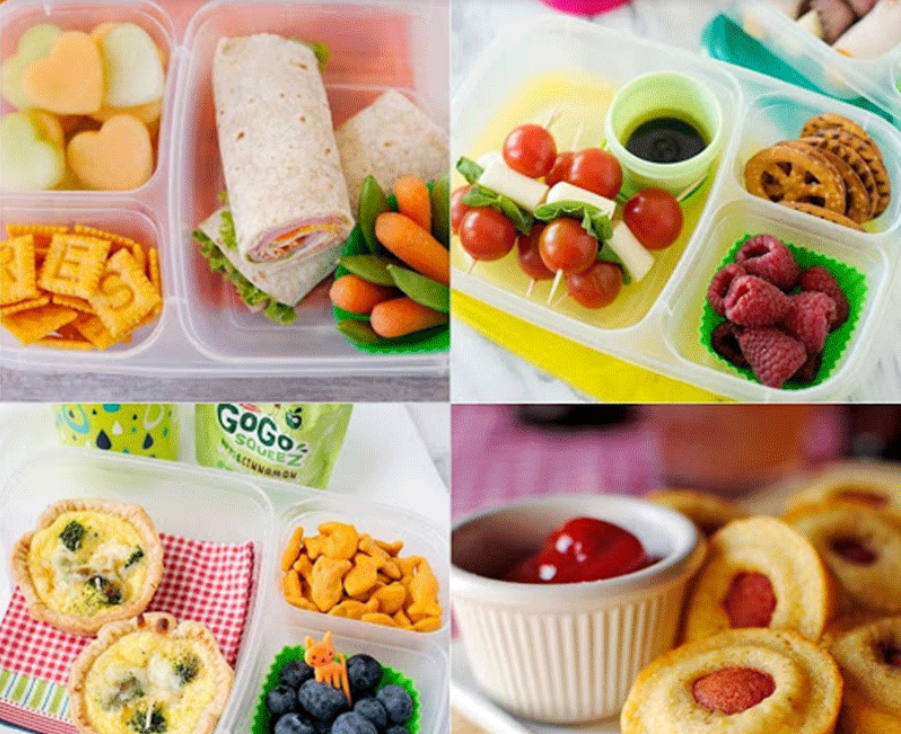 This light, creamy dish, served on a piece of toast or even by itself is a known kids' favourite. Not only it is easy and quick to make, you can also stock up on it while watching a tv show in the evening, and the next morning, make yourself a sandwich to take with you for a midday meal at work and leave the rest for your kids to snack on after school. And it also packs a complete nutrient value, with proteins in chicken breast, a variety of fresh and boiled veggies and a light creamy dressing.

2. Marshmallow Popcorn Treats with Dark Chocolate DPigs in the Blanket

This one is a joy for any kid with a sweet tooth. Their best quality is that they can be kept for quite a few days without being refrigerated and they won't spoil. So if you have a party on a Friday night and have some leftovers – your kids can have a little fun boost the following monday with this delightful popcorn and chocolate chip treat.
3. Fruit Sushi

Who doesn't love sushi? Well, actually quite a lot of people. Especially kids, who may find the very idea or eating raw fish yucky. But fruit sushi? This is the kid of sushi your kids might actually love. Not only does it look great and makes them feel pampered and sophisticated, it's simply loaded with good nutrition and is low on calories, 'bad' fats and sugar.

4. Cheddar Cheese Snack Crackers

Crispy, tangy, cheesy, salty, these crackers are so good, few people will be capable of stopping before the plate is empty. So yep, don't leave too many out. You might want to keep them at home for your little brainiacs so they can have a couple whenever they need a break from that algebra problem.
5. Loaded Oatmeal Cookies
An all-time classic that never loses its fun and flavor. Oatmeal, with its low sugar and high fiver count, is just perfect for an afternoon snack, leaving you with a pleasant feeling of fullness without having packed too many calories, and chocolate chips are just always good whatever you make of them. A perfect brain booster!
6. Green Bean Fries
Green Bean Fries are like fries, but much healthier. If your kids have hard time eating their veggies and insist that french fries should count towards that serving of veggies, you may want to offer just this kind of alternative. Quick deep-frying leaves the beans still crisp and the tender dough adds to the delicious flavor. Your little ones may just want to reconsider!
7. Baked Popcorn Chicken
These delicious little tender bites of crispy chicken, served with a creamy white sauce and herbs are perfect for a study afternoon. Packed full of protein, they will help your hard-studying kid to keep the necessary level of energy.
8. Fruit and Yogurt Parfaits
These lush stunning delights are a great way to make your kids feel loved. Easy to make, they actually look like they have walked out of a gourmet magazine! Great for a special after school occasion. If your kid finally got that A, or did well in a sport competition or maybe they just need a little boost of confidence and love, this parfaits will make anyone's day better.

9. Pimiento Cheese Rolls
You may want to reserve this one for a special occasion. Your kid's sweetheart is coming over after school, or they have a sleepover with the best friend. These cheese rolls are so good they may look outstanding at any party. Making them for an after-school snack is sure to make your child feel very special. This light, cheesy snack, made of lavash bread wraps, mayo dressing, sweet corn, veggies and cheese will be the stuff of legends among your kids' friends.

10. Peanut Butter Dip
Simple, healthy, stylish or any other number of adjective in superlative form you can think of. This snack is an epitome of simple and good food. Peanut butter and veggies or fresh fruit may not sound like a combo blast at first, but wait till you give it it a try. Or better, till your kid gives it a try. You may yet start serving it much more often.
11. Pizza Pie Pinwheels
It's really hard to miss with pizza when it comes to feeding kids, so you may be sure, that this recipe will become a favorite. You can use store-bought dough or make your own, this easy to make pizza version, made with fresh mozzarella and greens will come handy after an intensive training session or an especially tiresome test.
12. Caramel Bacon Popcorn
Now, my grandma always used to say that a little sugar boost is good for the brain function. This may or may not be true, but one thing is a fact. Studying is always made sweeter when you have something like a bowl of thie caramel bacon popcorn to chew on between flipping the pages.
13. Matzo Melts
This hearty, tasty dish of smoked turkey with melted cheese over matzo bread, sprinkled with herb oil is a grand idea for those who skipped lunch at school. A great way to sustain young ones for an afternoon of homework until dinner. They are so easy to make, the kids may even want to try out their hand at cooking and make them themselves!
14. Berry Swirl Frozen Yogurt Bark
Summer holidays are only a few days away and your kid is not really feeling like homework and looking forward to several weeks without school? this lovely, chilly dessert will help your child pull through the last few days before well-deserved holidays and keep a cool head on a hot afternoon when that last effort is needed to complete the school year.
15. Boiled Peanut Hummus
Many kids are going vegetarian these days and this dish is perfect for a little vegetatian. Stock-full of plant protein and polyunsaturated fats, it tastes delicious and keeps your stomach full for a long time. Serve it on a piece of toast or a rice cake
I hope you and your kids find some of these snack options useful and capable of making homework a tad more fun!