"Developed with Pediatric Occupational Therapists, our Tummy Triangle is uniquely angled to help baby enjoy tummy time! The incline uses gravity to comfortably develop upper body strength and promote baby's sense of balance. The peek-a-boo mirror and crinkly busy bee encourage reaching, grabbing…and lots of laughing!"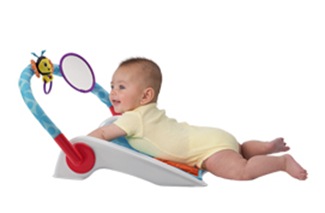 Tummy Time is so important for babies development.  So I was thrilled to try out the Infantino Right Angle Tummy Triangle.  It makes tummy time for baby not only fun, but more comfortable than on the ground or on a baby play mat.  Because it is elevated at the perfect angle for baby while on her tummy. Before the right angle tummy triangle baby didn't like tummy time very much (there was a lot of crying :() But with this there is laughing and play time!  I was really impressed! 
I love that the toy bar moves to various positions including completely folded down.  That makes it nice for storing it. You can adjust to 3 different positions depending on your babies age and development.  The crinkly bee and mirror are a hit with baby!  I recommend this to all parents of babies, it's a must have!
You can see an adorable video of the Right Angle Tummy Triangle in use.
Things that are Brag Worthy:
Unique angle uses gravity to help baby enjoy tummy time    
Helps baby reach future developmental milestones
Musical timer with three settings
Adjustable toy bar with three different positions
High contrast colors for visual stimulation
Machine washable fabric cover
Age 0m+
The Right Angle Tummy Triangle is available at most Toys R Us locations. And online at Babies-R-Us. Call your local listing for availability. See additional info at www.infantino.com.
Infantino Right Angle Tummy Triangle gets Bragging Rights!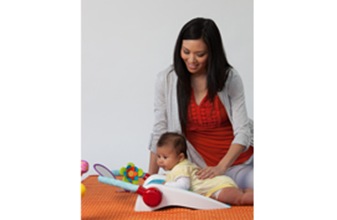 *I am a participant in a Mom Central Consulting campaign for Infantino and have received various Infantino products as part of my participation.