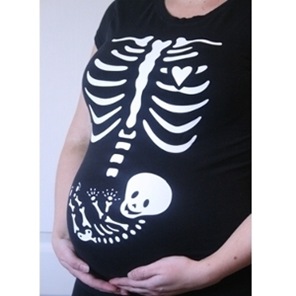 I love Halloween! It's one of those holidays where you can where fun t-shirts all month long and then dress up as something that is completely not you!
Inspire Your Walls has this really fun pregnant skeleton t shirt that I couldn't wait to try!
It is a really fun Iron-On that is so easy to use, even your kids can help! Basically you pick the shirt that you want (recommended is 100% cotton, 100% polyester, and 50/50 blend), apply, peel, place and Iron on!
It's that simple!
This Iron On would make THE cutest maternity halloween costume. I fortunately will be having this little girl on October 15th BUT I will for sure be wearing this shirt the rest of the month!
I also love that they have a skeleton iron on for every member in the family! I can't wait to dress my daughter up in a matching t-shirt and get one for my husband too!
This cute Skeleton Iron On can be purchased at www.inspireyourwalls.com
Inspire Your Walls Pregnant Skeleton T-Shirt Iron on gets Bragging Rights!