"When Bunny presses the big red button on Murphy's Shush Machine, she inadvertently silences the town of Harmonia Springs. Juno realizes that, in order to bring life back to the town, she and her friends have to create their own music through melody, harmony, rhythm and – most of all – friendship."-Juno Website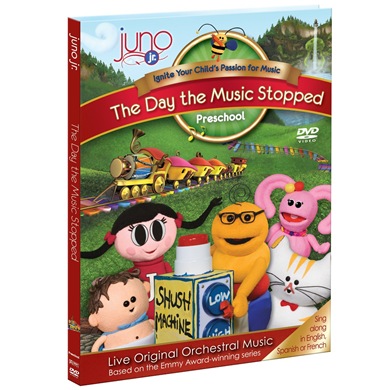 I had never seen the Juno DVD's until our Juno Jr. The Day the Music Stopped DVD arrived.  I wasn't sure what to expect but once I played it I was immediately impressed.  I love the music and the things that it teaches my 3 year old.  It is hard to find DVD's that are educational and still interesting to my son.  I can tell you that he was glued from the minute I turned it on for him.  And he has been enjoying it many times since.  Juno Jr. has great Preschool DVD's, and if you have babies in your home then you will want to check out Juno Baby.
Juno Jr. The Day the Music Stopped DVD gets Bragging Rights!

*I received The Day The Music Stopped DVD from Juno Jr. for my review.