This is a sponsored guest post.
There are a lot of festivals and celebrations all around the globe. People could connect with each other and experience different cultures during these festivals or celebrations. It is quintessential to interact and share cultures between different races. At any given festivals or celebrations, you will be able to learn more about the distinct ways of life, different types of clothing, various kinds of food and even diverse works of arts performed by different people or races. Japan has a rich history aside from being a rich country. It has diverse cultures that many people around the globe admire a lot. In this country, there are so many festivals and celebrations and people from different places would love to travel just to attend these festivals. Shinto festivals are one of the examples of a festival which could attract a lot of individuals around the globe.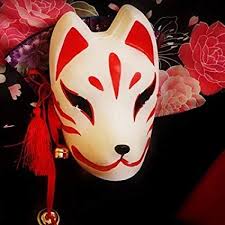 People love to wear a mask when there is a festival or celebration in Japan. In most festivals, kitsune masks are one of the most popular, and many people are buying and wearing these masks just to have some fun. A kitsune mask is also referred to as fox mask that is primarily intended to be worn during festivals and just for fun. These masks have a fox's face, and in Japan, fox is a widely respected animal. They believed that it is strongly connected with their gods. In the religion of Shinto, they have a god called Inari. This god is closely linked to rice farming, fertility, and their protector. Foxes are Inari's messengers, based on their belief. Foxes have extraordinary spirits according to their religion, and that is why people create kitsune or fox masks for different occasions.
What is a Kitsune or Fox Mask?
A lot people in Japan and around the globe that would like to wear masks that are asking a lot of questions about fox masks. In particular, any mask that has a fox's physical features and characteristics is called a kitsune mask of fox mask. These masks are usually worn to pay homage to the gods. The fox mask can also be used for ritual activities. These masks are accessible in various forms, colors and sizes, and many people who are attending festivals or performing ritual activities can choose any fox mask of their choice.
The kitsune or fox mask has always been a staple of the Japanese culture. The attention-catching white and red designs are often featured in anime and manga. As it is often seen in the festival setting, almost all people thought of it as some sort of versatile prop, however its origins go much deeper than just that. With both folk and religious contexts, foxes hold a very special place in the Japanese culture, and because of that, the kitsune mask or fox mask possesses significance from its ties to the fox itself. Japan also has an extremely rich mask history, which further depicts how the kitsune mask actually exists as a physical object. Since in both of these contexts the kitsune mask is deeply entwined, it bears far more cultural importance than most of us would initially think.
Why a Fox Masks is popular in Japan
Fox masks are much known in Japan. These masks are made so popular by many reasons. It has been stated above that in the Japanese culture, foxes are exceptional animals and are said to be Inari's messengers. For this reason, during the rice harvesting season, the individuals celebrate an annual festival. To celebrate the festivals to the fullest, many people have to buy a fox mask. The festival mostly takes place from August to November. When attending this type of festival, individuals are needed to wear the Kitsune masks or a fox mask.
Japanese masks are frequently used during festivals because it is quite attractive and at the same time funny. This is why many individuals enjoy buying and wearing them just for the fun of it. Another reason why Japanese wear masks during a festival is to scare people away and at the same time protect people from getting hurt during a fight. In addition, these masks are also used during plays and even on videos.
A Fox's Role in the Japanese Culture
Foxes are paradoxical animals in Japan, seen in contrast as being either benevolent or malevolent. One of Japan's main religion, Shinto, believes that a fox is regarded to be a messenger of Inari, the guardian god of fertility, agriculture, rice and industry. Shrines devoted to Inari display fox statues, and devotees frequently offer rice, sake, and other goods to assuage the messengers of Inari.
In myths and legends, foxes are claimed to be shapeshifters, taunting innocent persons whenever they get an opportunity. There are stories of foxes taking on the appearances of beautiful women and seducing unsuspecting men, or disguising themselves as monks to con some gullible villagers (the song Megitsune which translates to a female fox, refers to this deceptive aspect of foxes).
Are Japanese the only ones allowed to wear the Kitsune of Fox Mask?
This question is being asked by a lot of people – the answer is no. This is just for fun or for acting which is the reason why a lot of individuals around the globe wear these masks. There are no specific rules and guidelines if you want to wear these kitsune masks. Anyone who can afford to purchase them can wear them whenever they want. In Japan, it has been said that they are usually worn during the rice harvest season which is one of their festivals. People who are not Japanese are still allowed to wear masks and join the festivals. These festivals are mainly for fun. And this is why people who are willing can buy the mask and join the festival, but provided they will follow the festival rules. You can just easily purchase and wear a kitsune mask or fox mask just for fun or any other reason that you may have.
Types of Kitsune or Fox Masks
Even though many individuals may not recognize the culture of Japanese religion, it is essential to note that there are distinct kinds of kitsune masks available. It is also necessary to remember that in Japanese culture there are good and bad foxes. These offer two significant categories to the kitsune or fox mask which are being good and being bad.
Zenko (Good Kitsune)
Zenko kitsune are the good-natured foxes, often strongly associated with the God of Harvest, Inari Okami.
Foxes that are considered as "good" can also be protective guardians, or act hand in hand with people when respected by them. Stories tell about zenko foxes that would assist defend families as well as their properties (like crops or shops) and all other valuable items. Many also said that they came to the protection of innocent individuals who were intimidated by wicked foxes.
Yako (Bad Kitsune)
Single-tailed, rambunctious schemers and believed to exhibit evil intent are some of the characteristics of a yako fox.
How hostile and harmful a yako can differ widely from one kitsune to another. At the very most, some yako kitsune will play stunts and tricks to those people with adulterated hearts – such as individuals who are greedy, arrogant, barbaric, etc.
In addition, these two categories are split into 13 sub-categories, including Kaze, Chikyu, Kasai, Sand, Yama, Mori, Jikan, and many others. We have a lot of kinds of kitsune masks or fox masks for that reason. They are accessible in various shapes, designs, colors and even the face of the fox and its expression. Gold, white and black are the most popular colors.
Where to Buy
There are many areas in Japan and other parts of the globe where you can purchase kitsune masks. You can go to the top shops in Tokyo and other big cities in Japan who are dealing and selling any kinds of masks. You can even purchase kitsune or fox mask or any kind of Japanese masks through online. Because a lot of these mask producers would like to make it simple for interested customers around the globe to buy this kind of mask. All you need to do is visit the sites, select the mask you want and make your purchase and it will be delivered to you in a short period of time.
The Cost of a Kitsune or Fox Mask
You will figure out that this kind of masks is not that expensive when you go and visit top producers store of any kind of masks. Most of these masks are priced well to guarantee that they are available to all interested consumers. You can also get these masks at pocket-friendly rates if you visit Japan during the festivals.
In Japanese culture, kitsune masks or fox masks are extremely valued. Mostly used for rice harvesting festivals and also just for fun. Anyone can purchase and wear kitsune masks because they are not just for Japanese people but for all the people who appreciate it and would like to join the festival.