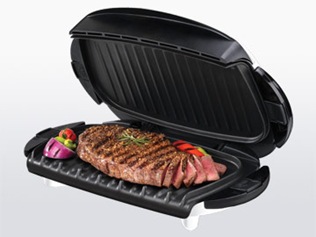 "New results of independent testing show that the George Foreman Grill removes up to 42% of fat from quarter-pound burgers made with 80/20 ground chuck beef, translating to a reduction of approximately 89 calories per burger!"
I was super excited when I was sent the George Foreman Next Grilleration GRP4 Removable Plate Grill. "A spacious yet sleek 72" grill that offers easy clean up grilling for the whole family".  I of course decided to make burgers that night for dinner on my new grill.  I like that it is large enough to fit 4 burgers on at a time.  But I did find that the burgers cooked better when I just did 2 at a time.  Also, the ready light comes on at about 7 minutes but I felt like it wasn't quite hot enough at that point.  I recommend letting it heat up or at least 15 minutes before starting your burgers.
While cooking my burgers I enjoyed seeing all the grease run off the grill and into the tray, and I really like that the grease only goes into the tray not down the back or sides.  It really is great to know that you are eliminating that much fat from what you are eating!  If you are looking for a way to make a low fat burger look no further.
  My absolute favorite part of this grill is that the plates are removable.  We

have had other George Foreman grills in the past and I have had such a hard time cleaning them (trying not to get the base wet).  So being able to remove the plates was great.  I can quickly and easily hand wash them, or even throw them in the dish washer!  I am really happy with our new grill and I can't wait to cook even more on it in the months to come!
Things that are Brag Worthy:
72 square inch grilling surface lets you cook for 4

2 dishwasher-safe removable grill plates for easy clean up
Temperature indicator light indicates plates are at grilling temperature
Integrated handle is ergonomic & compact
George Tough™ Triple non-stick coating is durable & eliminates need for oil
Patented sloped grill design knocks out the fat 
1 ½" floating hinge works to accommodate thick cuts of meat
Embedded heat elements provide consistent heat & rapid recovery time
Dishwasher-safe removable plates with cool-touch handles for easy clean up
2 Plates included: 2 ribbed grill plates
2 drip trays catch run off liquids for no-mess clean up
2 spatulas are customized for grill
There is also a Lean Mean Burger Challenge recipe contest underway with the Meal Makeover Moms on the George Foreman Cooking Facebook page.  Submit your best original and creative burger recipe prepared on any George Foreman Grill to enter to win. One grand prize winner will receive $1,000 and five finalists will receive $100 gift certificates to GeorgeForemanCooking.com!  Visit http://www.facebook.com/GeorgeForemanHealthyCooking to access the contest and all of the information necessary to enter. This contest will close for entries on June 6, 2011 so hurry if you want to enter!

George Foreman Next Grilleration GRP4 Removable Plate Grill gets Bragging Rights!

*I receive the George Foreman grill mentioned above for my review as a part of The Family Review Network.