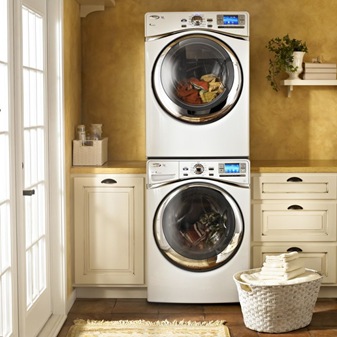 I just love doing laundry now that I have my Duet Washer and Dryer Pair from Whirlpool.  I thought I would share a few tips & tricks I have learned for doing laundry:
Keep your blacks black and your colors bright!
It is always smart to make sure you are using the proper cycles for the clothes you are washing.  Make sure you know which cycles are best for certain colors and fabrics.  I love that my Duet Washer has Smart temperature control which helps reduce shrinking and color bleeding. It also offers 14 specialty fabric care cycles!  So I can easily find the best cycle for the load I'm washing. And the "Care control temperature management enabled by 6th Sense technology helps protect your clothes by controlling water amount and temperature." I love how easy the Duet Washer makes doing laundry 🙂
Keep Sheets & Blankets from Balling Up-
"When you are removing the bed sheet from the washer, Tre likes to give the sheets a quick snap before them into the dryer. This should help the items from not balling up and dry more evenly. He suggests drying items of equal weight, so try to wash/dry your fitted and flat sheets together, but leave the blanket and towels for a different load."-Whirlpool Fabric Expert Tre
Avoid a Stinky Washer-
Much like a top loader, a front loader washing machine requires that you leave the door open after a cycle.  This will ensure that it completely dries out and you will avoid the stinky mildew smell that comes if you shut it and don't allow it to dry.
To Remove Blood Stains-
"Rinse the garment in cold water and treat it with a color-safe bleach like Oxi or hydrogen peroxide."-Whirlpool Fabric Expert Tre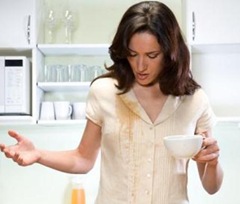 To Remove Grease Stains-
"If you have grease on your clothes, I recommend pre-treating with a pre-treater and rubbing it in. If you are out to eat and drop something on your clothes, I recommend using club soda at the restaurant to help start the stain removal process. The longer a grease stain sits, the more difficult it can become because it continues to oxidize and actually changes the chemical form of the stain. One thing I would like to stress is to be careful with "clear" stains, such as white wine, champagne, white grape juice, etc. because they can oxidize as well and will eventually turn brown."-Whirlpool Fabric Expert Tre
Clean Your Washer-
One thing that I have recently learned is that your washer needs to be cleaned regularly.  It makes sense when I think about it, I just never knew until now. 
You can buy affresh Washing Machine Cleaner and run it in your washer regularly to keep it working at it's best and cleanest capacity.  I love that my New Whirlpool Duet Washer has a cleaning cycle.  It's so nice!  I notice a difference when I use the aafresh cleaner in my washer.  I highly recommend using it regularly in your washer.
Clean Your Dryer-
You don't have to run a cycle to clean your dryer.  But you do need to make sure you are emptying the lint trap after each load you dry.  You also need to clean the trap every couple months to prevent build up.  Follow these easy steps:
1. Roll lint off the screen with your fingers.
2. Wet both sides of lint screen with hot water.
3. Wet a nylon brush with hot water and liquid detergent. Scrub lint screen with the brush to remove residue buildup.
4. Rinse screen with hot water.
5. Thoroughly dry lint screen with a clean towel.
Use the Proper Products and Amounts-
Using too much detergent isn't good for your clothes.  Even worse, it's bad for your wallet since you have to buy more.  You really only need the amount that the bottle says.  Most detergents now are strong enough that you only need a little.  I can't begin to tell you how much I love the feature of the The Precision Dispense Ultra system in my duet washer.  It releases only the amount of detergent needed for the load.  Yes, it senses the load and then decides how much to use. Love that it takes the measuring out of the equation for me.  It also releases bleach and fabric softener at the right time during the cycle for optimal fabric care.  This is one smart washer!
I would love to hear your tips and tricks for doing Laundry!  Please share them!