My daughter loves the Show Dinosaur Train on PBS. So I couldn't wait to review the Dinosaur Train Lights and Sounds Train. This is a great toy for anyone who loves Dinosaurs and not just the show.
About the Dinosaur Train
Dinosaur Train embraces and celebrates the fascination that preschoolers have with both dinosaurs and trains. The series encourages basic scientific thinking skills as the audience learns about life science, natural history and paleontology. Each of the 40 half-hour episodes features Buddy, an adorable preschool age Tyrannosaurus Rex, and his adoptive Pteranodon family as they board the Dinosaur Train and embark on whimsical voyages through prehistoric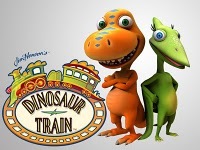 jungles, swamps, volcanoes and oceans. The episodes include two 11-minute animated stories, along with brief live action segments hosted by renowned paleontologist Dr. Scott Sampson, that unearth basic concepts in life science, natural history and paleontology.
"Dinosaur Train begins when Buddy is adopted by Mr. and Mrs. Pteranodon and brought to their nest to hatch at the same time as his new siblings, Tiny, Shiny and Don. Buddy and his new family have an insatiable desire to learn all about the different types of dinosaurs, so they board the wondrous DINOSAUR TRAIN, which allows them to travel and explore the world inhabited by these amazing creatures.
Departing from Pteranodon Station, the Dinosaur Train is a colorful locomotive, customized to accommodate all kinds of dinosaurs. Windows are perfect for the long-necked herbivores, and there's plenty of head room in the Observation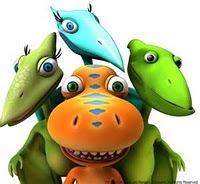 Car for the Giganotosaurus, giving all the species onboard a chance to check out the prehistoric world as they ride on the train. The Dinosaur Train has the ability to visit the Triassic, Jurassic and Cretaceous worlds, while the Train's Conductor, a knowledgeable Troodon, provides passengers with cool facts about dinosaurs along the way." (PBS website)
"Inspired by Jim Henson's PBS hit show "Dinosaur Train", the Lights & Sounds Dinosaur Train features over five fun songs, sounds and phrases. Push on the smokestack to see the headlight light up and to hear sounds!
Laura Giganotosaurus is also included. Add this Lights & Sounds Dinosaur Train to any Dinosaur Train collection!"( Learning Curve website) Laura is one of the many Dinosaurs seen riding on the train in almost every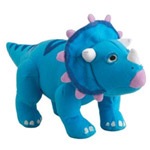 episode.
Learning Curve also has some other really fun Dinosaur Train Toys. I love the train set and the plush figures like Tank!
Things that are Bragworthy:
Fun TV Show with really fun toys and games too!
Perfect gift for any Dinosaur Train or Dinosaur and Train lover
Boys and Girls will both have tons of fun with this cute train
These great Dinosaur Train toys can be purchased at www.learningcurve.com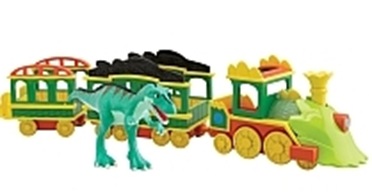 Learning Curve Dinosaur Train Lights and Sounds Train gets Bragging Rights!
One lucky winner will receive a Learning Curve Dinosaur Train Lights and Sound Train of their very own!
How to enter: Leave comments below with your qualifying entries. Leave a Separate comment for each entry telling us which you qualify for.
MANDATORY 1st entry– Visit the Learning Curve website and tell us another Dinosaur Train toy you would like to have
1st Mandatory Entry must be completed before you can qualify for additional entries. All extra entries who don't do the mandatory entry will be deleted.
3 entries– "Like" Learning Curve on Facebook
2 entries– Grab The Bragging Mommy button and put it on your blog. Leave a link.
3 entries- Join Learning Curve Email List
2 entries– Follow Learning Curve on Twitter
1 entry for each– Follow The Bragging Mommy via Google Friend Connect, Facebook, Twitter, subscribe to emails, subscribe in reader.
10 entries– Blog about this giveaway linking to this post & learningcurve.com. Leave a link.
1 entry per day– Tweet this giveaway including a link to this post & @braggingmommy in your tweet.
You can enter this giveaway until October 13 @10:00 am MST. The winner will then be chosen at random, verified and contacted via email. The winner will have 48 hours to email us back and claim the prize, if prize is not claimed within 48 hours a new winner will be chosen. By entering this giveaway you agree to The Bragging Mommy Full Disclosure. You must be over the age of 18 and live in the Contiguous US to enter.