My son just turned ONE a few days ago!! He is growing like a weed!! I thought that as he got older, he would no longer be interested in the Evenflo Jump and Learn Exersaucer. But I was wrong. He still plays with it often….but instead of playing IN it, he has sta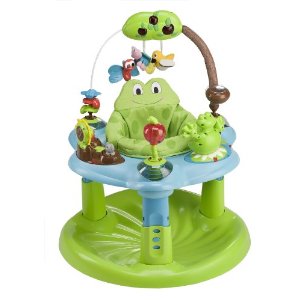 rted playing ON it. I have a climber on my hands (he is definitely showing his 'boy' personality). I will often find him pulling himself up onto the Exersaucer until he has successfully made it into the seat…..although his feet never make it into the leg holes. He thinks he is pretty cool being able to do it all by himself!
He has also discovered that he can play under the exersaucer. He will grab a toy &

 just hang out under there for a bit. It's his little hide out. Lucky for me, he will still play in this toy while I am busy around the house….if only for a few minutes. He hasn't quite figured out how to get out of the Jump and Learn by himself, so I don't have to worry about him getting into things. It's such a nice toy to have around especially with such a busy little boy! Sometimes I just need him to stay immobile for a few mintues!
55 Fun Learning Activities
"The use of

shapes

,

colors

,

textures

and

sounds

help baby reach a variety of developmental milestones and can help your baby learn through play."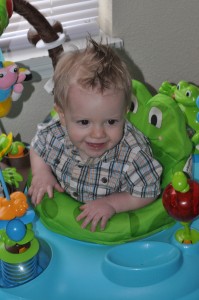 My son never gets tired of bouncing in the Jump and Learn Exersaucer. He still gets so excited. We still have the toy on the shortest setting, and you can see that his feet still barely touch the bottom, but that doesn't slow him down.  He also continues to play with all the toys. I have been removing them from the actual exersaucer so he can just play with them on the floor. It's great that the toys can be taken anywhere in the the house….or even car.
We sure love having the
Evenflo Jump and Learn Exersaucer

around. I think we will get a lot more use out of it in the months to come…..that is until my son figures out how to climb out of it (let's hope that doesn't happen anytime soon!!)
**I received an Exersaucer from Evenflo for the purpose of this review and as a member of the Evenflo Blogger Ambassador program I am being compensated for this post.