I received several craft items from Lakeshore Learning for this review, all opinions are my own.
My girls both absolutely love to make crafts. In fact my oldest who is 6 is often found at the kitchen table with markers, crayons, glitter glue and paper all spread out and making a masterpiece.March just happens to be National Craft Month, so my girls were very excited to try out some fun new items!  Leah loves to create and come up with different craft ideas all on her own. She was really excited when we were sent the Roll-On Confetti Glue from Lakeshore Learning.
Leah had a really fun project coming up for school and really wanted to use the Roll-On Confetti Glue! She needed to make an Ocean Diorama and the blue and gold were perfect! She sat down and planned everything out and we just helped hot glue and supervise. I love how it turned out!
Charlotte of course wanted in on the action and so her and Leah collaborated together on a fun glitter confetti glue paper! "Our colorful Confetti Glue lets little artists create shimmering effects in seconds! Each jumbo tube is filled with vibrant glitter and confetti shapes—like bright stars, shiny moons and sparkling hearts. Plus, the easy-to-use, nontoxic glue dries clear, and features a smooth-gliding tip…so it's a cinch for kids to roll out designs quickly and neatly. 8 tubes; 4 ounces each." (Lakeshore Learning website)
There are so many projects and activities that can be done with the roll on glitter glue like How to make a Kite, Rainbow, etc.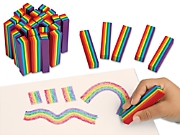 We also received some really fun Rainbow Crayons which Charlotte absolutely loved! She sat down and made her fun art work all by herself and had a blast!
"These ingenious rainbow crayons have six super-bright colors in every stick! Fun-to-use rectangular crayons make it easy for kids to draw brilliant rainbow images in just one stroke. Our jumbo set includes 30 crayons" (Lakeshore Learning Website)
Lakeshore Learning is a great place to find Craft Items of all sorts from glitter glue, crayons, stencils, paints and more! Please visit www.lakeshorelearning.com to purchase! Right now they are offering our readers 20% off your purchase with our special link (expires March 31, 2015)
Lakeshore Learning gets Bragging Rights!